The Crop Insurance Scheme launched during February 2016 is in line with One Nation – One Scheme theme. It incorporates the best features of all previous schemes and at the same time, all previous shortcomings/weaknesses have been removed.
The highlights of this scheme are as under:
There will be a uniform premium of only 2% to be paid by farmers for all Kharif crops and 1.5% for all Rabi crops. In case of annual commercial and horticultural crops, the premium to be paid by farmers will be only 5%. The premium rates to be paid by farmers are very low and balance premium will be paid by the Government to provide full insured amount to the farmers against crop loss on account of natural calamities.
There is no upper limit on Government subsidy. Even if balance premium is 90%, it will be borne by the Government.
Earlier, there was a provision of capping the premium rate which resulted in low claims being paid to farmers. This capping was done to limit Government outgo on the premium subsidy. This capping has now been removed and farmers will get claim against full sum insured without any reduction.
The use of technology will be encouraged to a great extent. Smart phones will be used to capture and upload data of crop cutting to reduce the delays in claim payment to farmers. Remote sensing will be used to reduce the number of crop cutting experiments.
The scheme was revamped in 2020 enabling voluntary participation of the farmers. It also made it convenient for the farmer to report crop loss within 72 hours of the occurrence of any event - through Crop Insurance App, CSC Centre or the nearest agriculture officer, with claim benefit transferred electronically into the bank accounts of the eligible farmer.
For the detailed guidelines of the scheme, click here.
National Crop Insurance Programme (NCIP) / Rashtriya Fasal Bima Karyakram (RFBK)
NCIP is a Central Sector Scheme formulated by merging National Agricultural Insurance Scheme (NAIS), Pilot Weather Based Crop Insurance Scheme (WBCIS), Pilot Modified National Agricultural Insurance Scheme (MNAIS) and and Pilot Coconut Palm Insurance Scheme (CPIS). The scheme came into force from Rabi 2013-14 and covers all districts.
Loanee farmers will be covered on compulsory basis under the component- scheme of NCIP notified by the concerned state, while non-loanee farmers will choose either MNAIS or WBCIS component.
Private sector Insurers with adequate infrastructure and experience will be permitted to implement NCIP besides Agriculture Insurance company of India (AlC).
For the detailed guidelines of the scheme, click here.
Insurance Products from Agriculture Insurance Company of India Limited (AIC)
Agriculture Insurance Company of India Limited (AIC) was incorporated under the Indian Companies Act 1956 on 20th December, 2002 with an authorised share capital of INR 15 billion and paid up capital of INR 2 billion. AIC commenced business from 1st April, 2003.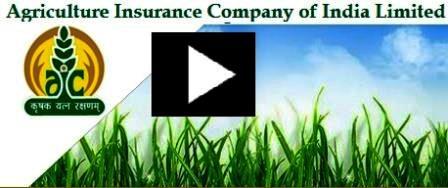 ×
This Video Explains About Agriculture Insurance Company of India Limited and various Insurance schemes covered by the Govt
AIC has taken over the implementation of National Agricultural Insurance Scheme (NAIS) which, until FY 2002-03 was implemented by General Insurance Corporation of India. In addition, AIC also transacts other insurance businesses directly or indirectly concerning agriculture and its allied activities.
Presently the following insurance products are offered by AIC.
Downloadable forms
Click here to download forms for the above insurance products from AIC website
Source: Agriculture Insurance Company of India Limited
Related resources