Profile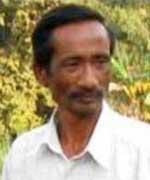 Shri Hrushikesh Giri
Village Gopalpur, Block Bonth, District Bhadrak, Odisha
(Mobile : 09937780101)
Age: 51 years
Education: M.A., M. Phil
Landholding: 10 ha
Farming experience: 35 years
Crops grown: Jute, paddy,vegetables and pulses
Recognition:
Governing board member of the ATMA, Bhadrak
Member of Farmers Club
Organising Secretary of Jagannath
Memorail Trust, Bhadrak
Description of innovation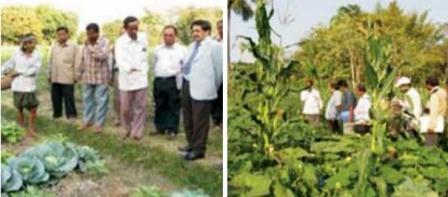 In the relay cropping in vegetables, vegetables cultivation is followed from October to May (eight months). In the beginning two or more crops of different durations are cultivated in the same field. When vegetable of shorter duration is harvested second vegetable gets better space to grow. When second vegetable enters fruiting phase, a third vegetable is planted, and like wise with modified principles of mixed and relay cropping the farmers took 3 to 7 crops in same patch of land over a period of 8 months.
Practical utility of innovation
The innovated model of relay cropping not only achieved scientific objective of crop management but also gave higher returns to farmers through relative advantages in space and time utilization, particularly when the proportion of up/medium land for vegetable cultivation is less. The utility of such model cropping also covers risk of uncertainty, enhances utilization of natural (land, water) and external (fertilizer, pesticide) resources as well as some times support eco-friendly crop management practice (e.g. the allopathic effects of garlic reduces disease chance in other crops in the same field). This practice reduces cost of cultivation and increases net returns from the same piece of land. The main utilities in this model are continuous flow of vegetables to market from the same piece of land.