Sunflower Plant for Staking Tomato
Profile
Shri Mahendra Sahu
Village Amagawa, Post Peri, P.S Simariya, District Chatra, Jharkhand
(Mobile : 09931529250)
Age: 52 years
Education: Graduate
Landholding: 6 ha
Farming experience: 31 years
Crops grown: Paddy, wheat and sunflower
Livestock: Poultry
Recognition:
Member of Farmers' Organization
Description of innovation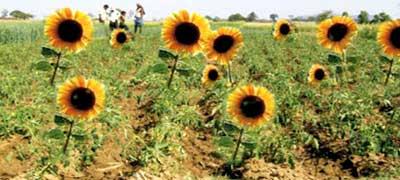 More fruits in tomato leads to breaking of branches and falling of the entire plant causing nearly 40% of fruits damage. Tomato plants need staking for bearing fruits till harvesting. Mainly small pieces of sticks are used for this purpose. Sticks are made either from tree branches or bamboo. In this, seeds of sunflower are sown near the root zone of tomato after 20 days of transplanting. Tomato plants come into bearing after 55-60 days of transplanting when sunflower plants become healthy for stacking tomato plants.
Practical utility of innovation
This alternate method of stacking does not require any additional input for which the entire process is affordable by the farmers. Cultivation of sunflower alongwith tomato increases the cropping intensity as well as provide additional income to the farmers. It has been observed that sunflower as stacking material performs better than sticks in keeping tomato plants erect.
© 2006–2019 C–DAC.All content appearing on the vikaspedia portal is through collaborative effort of vikaspedia and its partners.We encourage you to use and share the content in a respectful and fair manner. Please leave all source links intact and adhere to applicable copyright and intellectual property guidelines and laws.