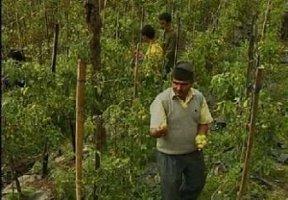 Dhanpati Sapkota, an award winning farmer, won a cash prize of Rs. 1.5 lakhs in a vegetable growing competition during the International Flower Festival at Gangtok. The progressive farmer is from Chota Singtam, Assam Linzey, East Sikkim.
Deviating from the traditional cultivation of Dhaan (paddy) and Makai (maize) for domestic consumption, Sapkota had introduced horticulture crops on 2 acres of his individual land after undergoing a three days training at Marchak. He also took part in an 11-days training on organic farming held at Uttaranchal which was supported by the State Horticulture Department.
The training and self-belief produced astounding results for Sapkota. He was able to produce 19 quintal of cherry pepper worth Rs. 1,52,000 in the same year from 1900 seeds. This encouraged him to embrace horticulture seriously. He began to cultivate cauliflower, tomato, cabbage and broccoli.
Sapkota harvested 40 kg tomatoes from one plant under protected cultivation in his holding. This year, the model farmer cultivated off-season tomatoes of Romeo variety by obtaining seeds from the State horticulture department under the technology mission. He sold 97 quintals of tomatoes worth Rs.1,94,000. He has also sold eight quintals of cauliflower worth Rs. 64,000 and 12 quintals of cherry pepper at Rs. 96,000. "I am earning Rs. 2.5 lakh per year through horticulture after paying wages to laborers and meeting other ancillary expenses", said Sapkota. He is also cultivating mixed vegetables under the technology mission as an area expansion of vegetables of the horticulture department. He is getting seeds, organic manure and pesticides and other support from the department.
Sapkota claimed that he has introduced 'Jukuni Pharsi' (pumpkin of Jukuni variety) which has a shape of a cucumber in Sikkim. Since he is the first farmer to cultivate 'Jukuni Pharsi', local people from Assam Lingzey have named the pumpkin as 'Sapkota Pharsi'. I brought the seed of Jukuni Pharsi in 2004 from Kathmandu, said Sapkota. He added that he had first seen this variety of pumpkin in the Rana's farm at Bhaktapur. Sapkota was richer by Rs. 90,000 after cultivating and selling the Jukuni Pharsi.
It is not all about organic farming for this progressive farmer. He is also involved in animal husbandry and livestock management and had undergone training at Karfectar, Jorethang. He has presently five cows out of which three are milching. He is selling 20 litres of milk daily at the rate of Rs. 20 per litre. Sapkota also gets his supply of manure from the cows for his farm and has established a vermin-compost unit with the help of horticulture department.
Regarding the marketing of the products, Sapkota said, "It is true that the most of the farmers are facing difficulties in marketing and this problem won't be solved until and unless we, the farmers of Sikkim will be able to produce sufficient and fulfill the demand of the market."
Impressed from his progressive work, the State Horticulture Department has constructed Farm Handling Unit under the Technology Mission which has become helpful to market his products. Now he does not need to take the products to market as his products are being sold from this unit.
Source: i-SIkkim