Climate vulnerability : Drought
Existing practice
Transplanted paddy is cultivated in the lowlands of Bihar. Paddy is often the only option available to farmers in the lowlands as it can withstand water stagnation due to high rainfall unlike other crops. Farmers' raise nursery of long duration paddy varieties (150 days) after the onset of monsoon in mid June. Seedlings of 20-30 days age are transplanted in July so as to complete flowering of photosensitive varieties before October and harvesting by mid November to facilitate taking up of timely sowing of rabi crops such as wheat, mustard, lentil, chickpea/vegetable. Such a practice ensures optimum performance of both kharif and rabi crops. However, Bihar experienced aberrant rainfall situations in 5 out of the previous 10 years impacting adversely rice production and livelihood of farmers. It appears that failure of rain in July is responsible as transplantation of paddy is delayed with resultant adverse affect on productivity and a cascading negative impact on rabi crops. Delay in transplanting of paddy affects productivity as over aged seedlings suffer from low tillering ability. Farmers' preference for long duration varieties is overwhelming and often wait for transplanting in lowlands till end of August in anticipation of rains. The existing practice has led to abandoning of nurseries and vast areas remained un-transplanted in several rainfed districts in South Bihar due to deficit rainfall in kharif 2013 season. Failure to transplant also creates an additional problem of shortage in fodder in the slack season for livestock which contributes up to 45% of total agricultural income in Bihar.
Resilient practice / technology
Establishment of community paddy nursery: Establishing a staggered community nursery was explored as a local adaptation strategy at the village level to combat the problem experienced by farmers during deficit rainfall seasons in lowlands. The technique involves raising a staggered community nursery under assured irrigation in the village at an interval of 2 weeks. In the anticipation of a two weeks delay in monsoon the first nursery is taken up as a contingency measure by 15 June with the long duration variety (>140 days) in order to transplant 3-4 weeks old seedlings by first fortnight of July. If the monsoon delay extends by 4 weeks, the second nursery is raised with medium duration varieties (125-135 days) by 1st July to supply 3-4 weeks old seedlings for transplanting in the 3rd or 4th week of July. In case of anticipation of further delay or deficit rainfall conditions, the 3rd nursery is raised by mid July with short duration varieties (<110 days) to take up transplanting of 3-4 week seedlings in the first fortnight of August.
During 2012 kharif season, KVK, Saran implemented this strategy and demonstrated the concept of community nursery in Affaur village. Farmers adopted this technique and jointly produced seedlings to ensure timely transplanting of correct age seedlings for higher productivity and reduce the risk associated with deficit/delayed onset of monsoon.
During kharif 2013 traditional paddy nurseries were taken up by the community with staggered sowings on 15th June, 1st & 15th July. However, due to scanty rainfall (-70% of normal) transplanting could not be taken up in July and the first two nurseries were abandoned and the seedlings were used for fodder purpose. Only the seedlings from the 3rd nursery (short duration varieties Prabhat and Turanta dhan) could be used for transplanting in August after receipt of rain.
Impact of community nursery technique
In Affaur village of Saran district (Bihar) community mat nursery of paddy with long duration variety (Sarayu-52), medium duration variety (Rajendra Bhagwati & Sahbhagi) and short duration variety (Prabhat & Turanta dhan) were taken up on 15th June (1st nursery), 1st July (2nd nursery) & 15th July (3rd nursery), respectively each in 10 farmers fields.
The total cost of cultivation ranged from Rs.29,270 to Rs.33,335/ha. Grain yield obtained was in the range of 25 q/ha using seedlings from first nursery for transplanting, 30 q/ha with seedlings from second nursery and 35 q/ha with seedlings from third nursery in 2012 season. Highest net returns of Rs.13,164 and benefit cost ratio of 1.39 was obtained by transplanting of seedlings from third nursery in this season.
In 2013-14, the village experienced deficit rainfall situation in July and first fortnight of August. Community nursery was demonstrated on 12 ha covering 36 farmers. Farmers could take up transplanting using seedlings from the 3rd nursery raised on 15 July. These farmers' benefitted with an additional yield of 4-5 q/ha (13% increase in yield) compared to farmers who transplanted over aged seedlings in August.
In Bihar, State Department of Agriculture has launched a scheme for promoting farmer managed community nurseries under assured irrigation to make available paddy seedlings for transplanting to meet contingent situations. Under the scheme, a community nursery in 5 acres/panchayat and 150 acres in each district is taken up. The subsidy for each nursery given to the farmer is Rs.6500/acre to cover the cost of production and Rs.1000/acre to farmers for purchasing of seedlings for transplanting in 10 acres from 1 acre of nursery. The total amount supported by the department for 1 acre of community nursery worked out to Rs.16,500. It is suggested to promote community nursery with short duration varieties in the event of deficit rainfall situation in July as being experienced in several districts in Bihar in recent years.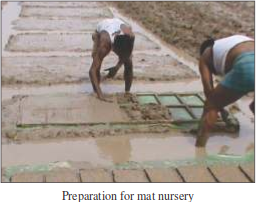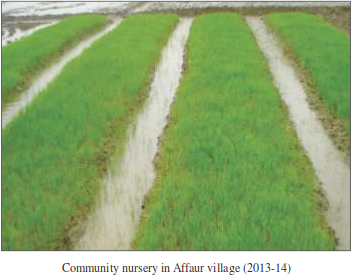 Scope of upscaling
Community nursery was demonstrated in 565 ha covering 1274 farmers farmers in Ropar Punjab); Saran, Jehanabad, Nawada, Saran (Bihar); Chatra, Gumla, Koderma(Jharkhand);Umain,Ri-bhoi (Meghalaya);Linglei(Mizoram); Dhubri(Assam); Sonepur(Odisha); Dantewada(Chhattisgarh);Gondia, Sonbhadra(Uttar Pradesh); Valsad(Gujarat);Datia (Madhya Pradesh) with an yield advantage ranging between 9.4 to 80.2% and benefit cost ratio of 1.4 to 5.1 compared to farmers'practice.
Source: Smart practices and technology for Climate Resilient Agriculture