Insect Pest os Aonla in Hot Arid Region
Aonla mealy bug (Nipaecoccus viridis)
Found in several countries in the Afro-tropical, Asian (including Hawaiian islands), Oriental and Palearctic regions.
Host Range
It is highly polyphagous pest in India. It mainly infects aonla, citrus, cotton, jute etc
Nature of Damage
Primarily occurring on foliage and fruit of host.
The attacked new shoots are found bending and twisting with yellowing of leaves.
In case of severe infestation, twigs become leafless and dry.
Excessive excretion of honeydew is noticed.
Flowers dry up and drop
Description
Body round or broadly oval; somewhat flattened dorso-ventrally; purple or blue green; covered by thick white, creamy, or pale yellow wax.
Ovisac covering dorsum; probably with 5 or 6 pairs of lateral wax filaments.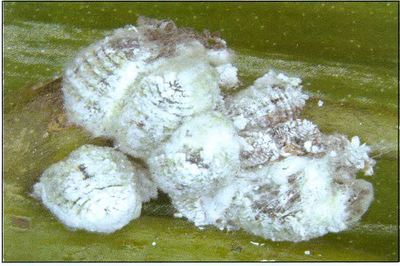 Apparently oviparous, eggs purple.
Dorsum probably with waxy filaments.
Ventral multilocular pores usually on all abdominal segments and on head.
Source: Insect Pest of Arid Fruit Crops
IPM for Amla
To know the IPM practices for Amla, click here.
© 2006–2019 C–DAC.All content appearing on the vikaspedia portal is through collaborative effort of vikaspedia and its partners.We encourage you to use and share the content in a respectful and fair manner. Please leave all source links intact and adhere to applicable copyright and intellectual property guidelines and laws.