Insect Pest of Lasora in Hot Arid Region
Lasora tingid bug (Dictyla cheriani)
The tinged bug, Dactyla cheriani was recorded first time on Indian Cherry, Cordia myxa in 2010 at experimental farm of Central Institute for Arid Horticulture, Bikaner. The D. cheriani has been earlier reported on Cordia sp. from Coimbatore in 1936.
Host Range
Nature of Damage
The nymph and adult damage the leaves of plant.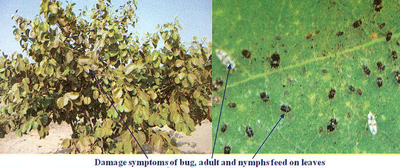 Due to attack of this pest, the leaves turn yellow and finally dry.
The maximum incidence of tinged bug was recorded in the second fortnight of October on broad leaves (25.00/ leaves) and small leaves (9.00/ leaves) followed by first fortnight of November on broad leaves (22.20/ leaves) and small leaves. (5.80/ leaves).
Description
The body is oblong, pale testaceous with brownish or fuscous markings, with collar and hood yellowish brown, body beneath reddish dark with thoracic sterna darker.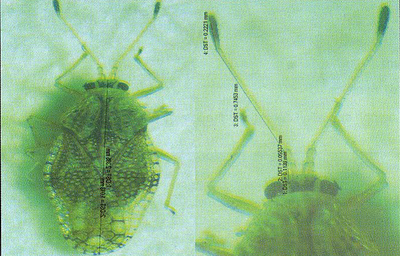 Labium is brownish with dark apex, reaching to base of mesosternum.
Antenna is yellowish brown; 1/3 part of 4 segment blackish.
Antenna is rather slender, segmental measurements: I, 0.12 mm; II, 0.09 mm; Il, 0.80 mm; IV, 0.22 mm. Length of body is 2.25 mm and width 0.88.
Pronotum is very strongly convex, tricarinate, with discal part on each side covered by the reflexed paranotum up to the lateral carina; backward projection of pronotum triangular, areolate; hood small, feebly produced anteriorly at the middle.
Hemelytra are wider than width of pronotum across humeral angles, longer than abdomen.
Hind wings are longer than abdomen and hyaline.
Source: Insect Pest of Arid Fruit Crops
© 2006–2019 C–DAC.All content appearing on the vikaspedia portal is through collaborative effort of vikaspedia and its partners.We encourage you to use and share the content in a respectful and fair manner. Please leave all source links intact and adhere to applicable copyright and intellectual property guidelines and laws.