Custard Apple Insect management
Mealy bug
Biology
Egg: The egg period is 28-32 days. Female and male adults live for 23 to 28 days, respectively. Pre-oviposition, oviposition and post-oviposition periods is 6-7, 8.-9 and 1-2 days, respectively. The total life span of female and male is 46 -49 and 23 -29 days. The reproduction took place both sexually as well as parthenogenetically and female laid an average of 155 eggs during its life period.
Nymph: Yellow to pale white in colour. It has three to four nymphal instars and the total nymphal period is 21 to 29 days.
Adult: Females apterous, long, slender covered with white waxy secretions. The life-span of the adult female is 12-31days.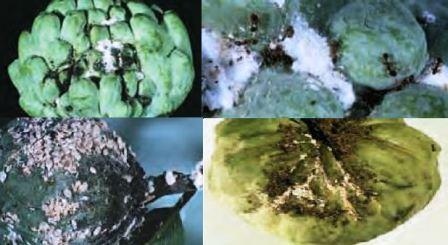 Symptoms of Damage
The tiny small bugs usually suck sap from twigs, leaves and flowers. Infested fruits will have uneven shapes, poor quality, and are susceptible to secondary infections by pathogens.
Natural enemies of mealybug
Predators: Ladybird beetle namely Menochilus sexmaculatus, Rodolia fumida, Cryptolaemus montrouzieri
Fruit borer/ Fruit boring caterpillar
Biology
Eggs: Eggs are laid singly on immature fruit. Upon hatching, the caterpillar bore into the fruits where they pupate.
Larva: Fully developed gray to black coloured caterpillars are about 20 mm long.
Adult: Light brown with transparent wing.
Damage symptoms
Caterpillar makes irregular tunnels and damages the mesocarp by feeding the internal content of the fruits.
The presence of excreta of the caterpillars near the entry holes on the affected fruits
The growth of affected fruits is arrested and later fall down.
Natural enemies of fruit boring caterpillar
Predators: Chrysoperla zastrowii Sellimi, coccinellids, king crow, common mynah, wasp, dragonfly, spider, robber fly, reduviid bug, preying mantid, fire ants, big eyed bugs (Geocoris sp), pentatomid bug (Eocanthecona furcellata), earwigs, ground beetles, rove beetles etc.
Fruit fly
Biology
Egg: Under optimum conditions, a female can lay more than 3,000 eggs during its lifetime, but under field conditions from 1,200 to 1,500 eggs per female is considered to be the usual production. Development from egg to adult under summer conditions requires about 16 days.
Larva: The mature larva emerges from the fruit, drops to the ground, and forms a tan to dark brown puparium.
Pupa: Pupation occurs in the soil. About nine days are required for attainment of sexual maturity after the adult fly emerges.
Adult: Brown or dark brown with hyaline wings and yellow legs.
Damage symptoms
Maggots bore into the semi ripened fruits and feed on the pulp.
Affected fruits become shrivelled, deformed, rot and drop.
Natural enemies of fruit flies
Parasitoids: Diachasmimorpha longicaudata, D. tryon, D. kraussi, Fopius arisanus.
Scales
Biology
Egg: The eggs are pink to dark red and are laid under the scale's wax covering of adult females. Females lay about 2000 eggs.
Nymph: First stage (instar) nymphs, called crawlers hatch from eggs over a period of 2 to 3 weeks. Immediately after hatching the first instar crawlers come out which are pink in colour. They disperse on the leaves and twigs and find a suitable feeding place to settle. The crawlers undergo three moults and develop into adults. The wax-covering secreted around their body gives them a star-like appearance. Soft scales have 3 or 4 instars in the female and 5 in the male
Adult: The adults are elliptical, reddish brown with short anal process. The adult female is reddish which is coated with a thick layer of pinkish-white wax. Adults are mostly found on twigs and branches. The size of the female is about 2 to 4 mm in length and 1 to 3.5 mm in width. Males are not known in this species. Females have 2 to 3 immature stages without any pupa-like instars while males have 4 immature stages with the two pupa-like instars.
Damage symptoms
The direct damage is caused by insertion of stylets during feeding by the nymphs, which causes premature leaf drop and drying of twigs.
Sooty mould develops on honeydew excreted by these scale insects and incase of severe infestations shoots or branches die and host's death may also occur.
Natural enemies
Parasitoids: Coccophagus lycimnia, Metaphycus eruptor and Scutellista cynea
IPM for Custard Apple
To know the IPM practices for Custard Apple, click here.
Source: NIPHM, Directorate of Plant Protection, Quarantine & Storage
© 2006–2019 C–DAC.All content appearing on the vikaspedia portal is through collaborative effort of vikaspedia and its partners.We encourage you to use and share the content in a respectful and fair manner. Please leave all source links intact and adhere to applicable copyright and intellectual property guidelines and laws.