Bacterial leaf and fruit spot
Disease symptoms:
Appearance of one to several small water soaked, dark colored irregular spots on leaves resulting in premature defoliation under severe cases.
The pathogen also infects stem and branches causing girdling and cracking symptoms.
Spots on fruits were dark brown irregular slightly raised with oily appearance, which split open with L-shaped cracks under severe cases.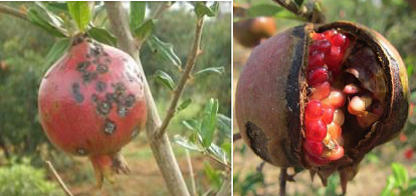 Survival and spread:
Primary source of inoculum is Infected cuttings
Secondary source of inoculum spreads through Wind splashed rains.
Favourable conditions:
The increase in day temperature (38.6°C) and afternoon relative humidity of 30.4% along with cloudy weather and intermittent rainfall favored the disease initiation and further spread of the disease.
Leaf and fruit spot
Disease symptoms:
Leaf spots are minute, brown with yellow halo.
Spots are scattered, circular or irregular and become dark brown with age.
Spots on lower side are sunken with clusters of spore bearing structures hence greyish in colour.
Minute, circular, black spots appear on sepals of the flower.
Fruit spots are black, minute and circular on rind.
When grow old, become large, irregularly circular and depressed presenting an ugly look to the fruits.

Favourable conditions:
Optimum temperature is 25-32°C with night temperatures above 16°C, and a relative humidity of 90-95%.
Survival and spread:
Primary spread : Diseased plant debris
Secondary spread : Wind borne conidia
Anthracnose
Disease Symptoms:
Small, regular to irregular black spots on leaves, calyx region and fruits which turn later on as dark brown depressed spots.
Infected leaves turn yellow and drop off.
Survival and spread:
Primary source of inoculum: Infected leaves
Secondary source of inoculum: windborne conidia.
Favourable conditions:
The disease is severe during August-September when there is high humidity, and the temperature between 20-27ºC.
Fusarium wilt
Disease symptoms:
Affected plants show yellowing of leaves in some twigs or branches, followed by drooping and drying of leaves.
The entire tree dies in few months or a year.
When affected tree is cut open lengthwise or cross-section dark grayish-brown discolouration of wood is seen.
© 2006–2019 C–DAC.All content appearing on the vikaspedia portal is through collaborative effort of vikaspedia and its partners.We encourage you to use and share the content in a respectful and fair manner. Please leave all source links intact and adhere to applicable copyright and intellectual property guidelines and laws.