Nitrogen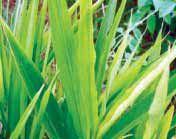 Pale or yellow green leaves (chlorosis) symptoms appear first in the older leaves. Reddish tints gradually appear at the leaf margins spread toward the midrib or central vein. Leaves are small in size. Overall growth is markedly reduced. Deficiency results in reduction of rhizome yield.
Correction measure: Foliar spray of urea 1% or DAP 2% twice at weekly interval.
Potassium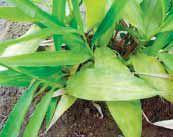 Since potassium is very mobile within the plant, symptoms only develop on young leaves in the case of extreme deficiency. Reduced growth, shortened internodes, marginal burn or scorch (brown leaf edges), necrotic (dead) spots in the leaf, reduction of lateral breaks and tendency to wilt readily
Correction measure: Application of K @ 36 Kg/acre in four splits (basal, 60, 90 and 120 DAP) or foliar spray of K2SO4 @ 1% at fortnightly interval.
Iron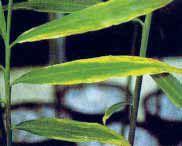 The deficiency of iron shows up first in the young leaves of plants, which develop interveinal chlorosis and it progresses rapidly over the entire leaf. In severe cases, the leaves turn completely white.
Correction measure: Soil application of FeSO4 @ 12 Kg/acre followed by foliar spray of FeSO4 @ 0.5%during 3rd, 4th and 5th months.
IPM for Turmeric
To know the IPM practices for Turmeric, click here.
Source: NIPHM and Directorate of Plant Protection, Quarantine & Storage