Moringa hairy caterpillar
It is a specific and common pest on drumstick.
Biology:
Adult: It is a large moth with light yellowish brown wings, having faint lines. Female moth lays eggs in clusters on tender parts.
Egg: Egg period is 5-7 days.
Larva: Caterpillar is dirty brown in colour with whitish hairs arising in tufts on small warts. Hairs are poisonous and irritating. Head capsule and thoracic legs are coral red in colour. Larval period is 20-25 days.
Pupa: Larva pupates in soil in an earthen cocoon. Pupal period is 8-10 days.
Damage symptoms:
Caterpillars gather in a cluster on the stem of the plants during hot hours of day
They are active at night, defoliate the tree quickly and collect on the trunk
The larva feeds on leaves causing defoliation
Moringa budworm
Biology:
Egg: Creamy oval eggs laid singly or in groups on flower buds.
Larva: Dirty brown with a prominent mid dorsal stripe, black head and prothoracic shield.
Pupa: Pupation takes place in an earthen cocoon in the soil.
Adult: Fore and hind wings are light yellowish brown
Nature and symptoms of damage:
In early stages, the caterpillars are gregarious and scrape the chlorophyll content of leaf lamina giving it a papery white appearance.
Later they become voracious feeders making irregular holes on the leaves.
Irregular holes on leaves initially and later skeletonization leaving only veins and petioles
Heavy defoliation.
Bored fruits with irregular holes
Larvae bore into flower buds feeding on the inner contents and cause shedding up to 78 per cent during summer.
Only one caterpillar is seen in a bud
Pod fly:
Biology:
Egg: Cigar shaped, laid in groups on the grooves of tender pods.
Maggot: Cream coloured maggot
Adult: Yellowish fly with red eyes
Leaf caterpillar:
Biology:
Egg: Creamy white oval eggs are laid in clusters on leaves.
Larva: Devoid of prothoracic shield.
Adult: Similar to budworm but bigger in size
Damage symptoms:
Caterpillars feed on the leaves and cause defoliation.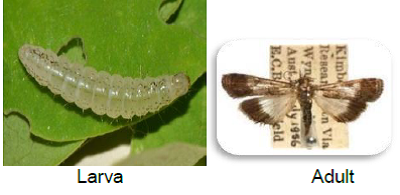 Bark caterpillar:
Adult: Adult is pale brown moth. Fore and hindwings are cream-white in color. Forewings have brown spots and streaks.
Damage symptoms:
Zig-zag galleries and silken webbed masses comprising of chewed material and excreta of larva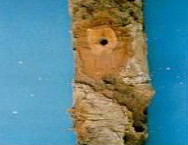 IPM for Drumstick
To know the IPM practices for Drumstick, click here.
Source: NIPHM, Directorate of Plant Protection, Quarantine & Storage
© 2006–2019 C–DAC.All content appearing on the vikaspedia portal is through collaborative effort of vikaspedia and its partners.We encourage you to use and share the content in a respectful and fair manner. Please leave all source links intact and adhere to applicable copyright and intellectual property guidelines and laws.