Two spotted spider mite
Biology:
Each female lays 10-20 eggs per day, 80-120 altogether during its lifetime of up to 4 weeks. They are mostly attached to the silk webbing. The six-legged larvae hatch after 3- 15 days. They molt three times within 4-5 days, towards protonymph, then deutonymph and at last adult. These instars all have eight legs. Before each molt there is a short quiescent stage. At favorable conditions the life cycle can be completed in about 1-2 weeks, including a pre oviposition period of 1-2 days. Often a change towards hot and dry weather leads to a very rapid increase of population density
Life cycle:
Damage symptoms:
Stippling on leaves
Webbing and defoliation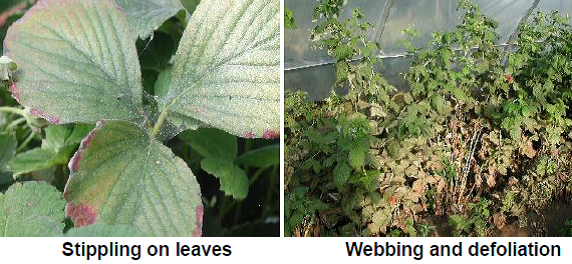 Cut worm
Biology:
Egg: Females lay about 500 eggs under surface of leaves over a period of 2- to 3 weeks.
Larvae: They feed for 3 to 4 weeks, and are fully grown to 1½ to 2 " long. Cutworm larvae have 6 growth stages, or instars. The final instar lasts about 10 days.
Pupae: Some species overwinter as pupa in the soil, while some continue to develop through winter. Duration of the pupal stage is normally 12 to 20 days.
Adults: The adult pre oviposition period is about seven to 10 days. Adult period varies around 10-20 days.
Life cycle:
Damage symptoms:
The larvae feed on all portions of the plant, but are usually found under the canopy rather than on the top of the plants. It is not uncommon, however, to find larvae feeding on the terminal buds.
The mature variegated cutworm larva is about 2 inches and varies from pale gray to dull brown.
Flea beetle
Biology:
Flea beetle larvae are very small, slender and worm-like.
A full-grown larva is only about 1/4 inch long when mature.
Larvae are white, with a shiny, pale-brown head and three pairs of legs.
Adults are small, about 1/8 inch long, elongate-oval beetles, with brownish-yellow bodies, darker elytra, some with reddish-brown heads.
Flea beetles overwinter as eggs in the soil near the crown of mint plants.
Eggs hatch early April through early May.
Larval development is completed during late May and early June. Pupation is in the soil near the rhizomes
The pupal stage is completed in about 3 to 4 weeks
Life cycle: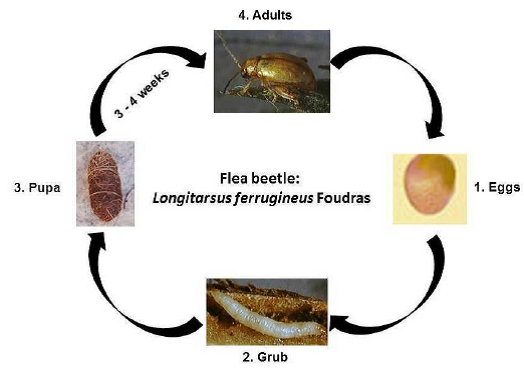 Damage symptoms:
After hatching, the young larvae feed first on the fine hair roots and then tunnel into stolons rhizomes and underground parts of the stem, where they continue to feed, for about 4 to 5 weeks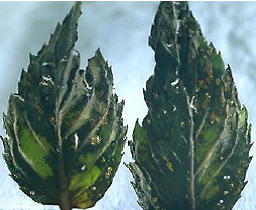 Aphids
Biology:
Eggs: In temperate regions, these aphids overwinter during the egg stage.
Nymphs: Immature aphids are called nymphs. They are pale yellowish-green in color with three dark lines on the back of the abdomen that are not present on the adult. Nymphal development is completed in 6 to 11 days
Adults: The wingless adult aphids vary in color from green to pale yellow. Winged adults are green with black or dark brown markings on their abdomens. Adults are small to medium sized aphids from 1/25 to 1/12 inch long and their antennae are 2/3 as long as the body. Adult females give birth to approximately 50 nymphs.
Life cycle: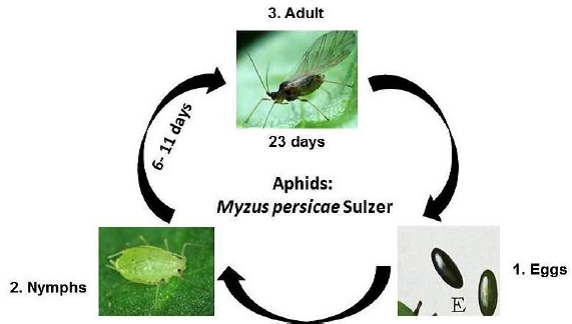 Damage symptoms:
Aphids are sucking insects those feed by thrusting a long beak into the plant tissue.
They withdraw great quantities of sap, some of which they execrete as "honeydew".
The honeydew makes the plant sticky. When plantplants are heavily infested with aphids, sidewalks, lawn furniture, and automobiles may become wet with honeydew.
A sooty mold often develops with the honeydew blackening stems and foliage.
Red pumpkin beetles
Biology:
Egg: Brownish elongate eggs are laid in the soil and each female may lay about 150 to 300 eggs singly or in groups of 8-9 near the base of plants. Egg period is 8-15 days.
Grub: Grubs are creamy white with darker oval shield at back. Grub period is 12-18 days.
Pupa: Pupation takes place in an earthen cocoon. Pupal period is 10-15 days.
Adult: Raphidopalpa foveicollis has reddish brown elytra; A. intermedia has blue black elytra; and A. cincta has grey elytra with black border. Total life cycle takes 27-56 days. There are 5 to 8 generations/year.
Life cycle: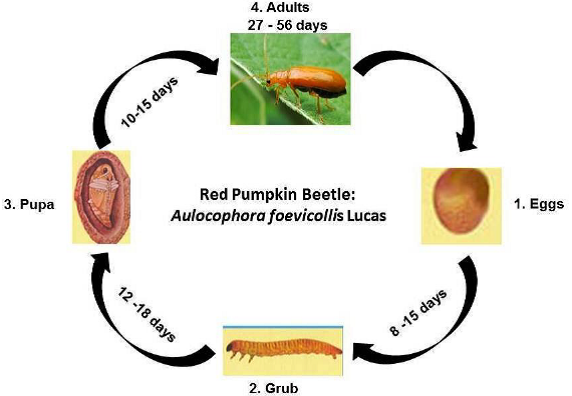 Damage symptoms:
The pest feeds on the growing leaves and buds.
They bite holes on leaves.
Grubs after hatching, feed on roots of plants below soil surface.
Hairy caterpillar
Biology:
Eggs: Laid in clusters of 50-100 on the lower side of leaves
Larva: Orange coloured with broad transverse band with tufts of yellow hairs that are dark at both ends
Pupa: Forms a thin silken cocoon by interwoven shed hairs of the larvae.
Adult: Crimson coloured moth with black dots and a red abdomen. Pinkish wings with numerous black spots
Life cycle: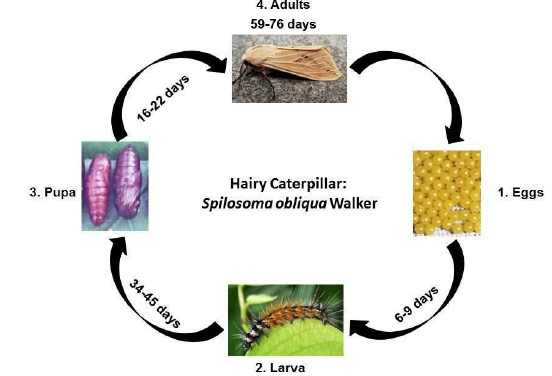 Damage symptoms:
Young larvae feed gregariously mostly on the under surface of the leaves
Feed on leaves and cause defoliation
In severe cases only stems are left behind
Mealy bug
Biology:
Eggs: Eggs are deposited as white cottony masses called ovisacs. The glossy, light yellow eggs are oval and approximately 0.3 mm long. A female lay 300 to 600 eggs in a life period, which are deposited in groups of 5 to 20.
Nymphs: Nymphs emerge from the ovisacs and typically settle along midribs andveins on the underside of leaves and young twigs. Wax and honeydew secreted bycrawlers are visible indicators of infestations. The nymphs are yellow, oval-shaped with red eyes, and covered with white waxy particles The female nymphs resemblethe adult female in appearance, while male nymphs are more elongated. Female nymphs have four instars.
Adult: Adult size ranges in length from 3 mm (females) to 4.5 mm (males). The females are wingless, white to light brown in color, with brown legs and antennae. The body of adult females is coated with white wax and bears a characteristic faint gray stripe along their dorsal side. Short waxy filaments can be seen around the margins of their oval body with a slightly longer pair of filaments present at the rear end of their body.
Life cycle: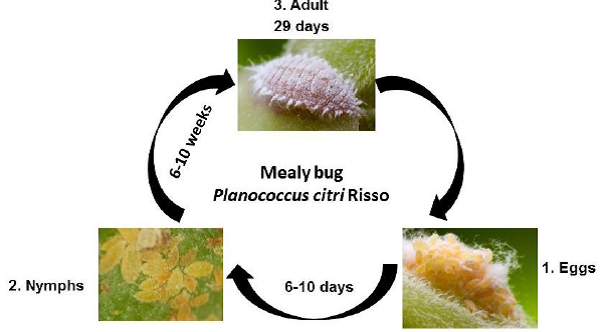 Damage symptoms:
The bugs feed by sucking on the plant juices of new tender leaves, the leaves wither and yellow.
They secrete a sticky substance called honeydew which attracts ants and reduce plant respiration.

Root-lesion Nematode
Biology:
Root-lesion nematodes are migratory endoparasites.
Females lay about 1 to 2 eggs/day for about 35 days, with a maximum of 68 eggs laid by one female.
Eggs are laid singly or in clusters in both soil and roots.
Males are required for reproduction by P. penetrans
Root-lesion nematodes prefer to invade roots 3 to 13 mm behind the root tip with some preference for the dense root-hair zone.

Damage symptoms:
Young feeder roots are generally selected, with a reduction in attack as tissues age.
Feeding by P. penetrans produces lesions on roots, which initially appear as water soaked areas at the root surface.
These sites later become yellow, and eventually develop dark brown centers. Discreet brown lesions of necrosis usually appear in two to four weeks.
Field symptoms of damage generally occur as circular to irregular patches, perhaps 30-150 feet in diameter that have thin stand and stunted plants.
Mint often has a reddish color. Presence of root-lesion nematodes can be detected by looking for reddish-brown lesions on roots of groundsel.
IPM for Mint
To know the IPM practices for Mint, click here.
Source:NIPHM; Directorate of Plant Protection, Quarantine & Storage
© 2006–2019 C–DAC.All content appearing on the vikaspedia portal is through collaborative effort of vikaspedia and its partners.We encourage you to use and share the content in a respectful and fair manner. Please leave all source links intact and adhere to applicable copyright and intellectual property guidelines and laws.