Litchi mite is a major problem to litchi growers in all litchi growing areas as the pest damage newly emerged shoot as well as developing fruits. By adopting integrated management schedule this noxious pest can be managed. A brief description of pest and its nature of damage along with integrated management schedule developed at ICAR-NRC on Litchi have been given.
Description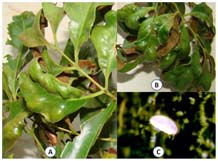 Litchi mite is a tiny creature which is not visible through necked eye. Both nymphs and adults of mite damage the leaves, inflorescence and young developing fruits through sucking the sap form newly emerged leaf lamina, shoots and developing inflorescence and fruits.
Due to continuous sucking of sap, leaf tissues become aggravated and formed erineum. The symptom occurs as velvety growth on the lower side of leaf surface which enlarge and turn to chocolate colour with deep lesion resulting in reduced photosynthesis area. In severe cases particularly in unmanaged orchards, the infestation level become very high and spread of the infestation takes place from the neighboring plants and orchards.
In such orchard, very poor flowering and fruiting takes place and grower suffers from huge economical losses. The maximum incidence of the mite is noticed during the July-October and February-March especially in un-pruned and poorly managed orchard.
Management Schedule
Pruning and removal of infested twigs/ shoots just after harvesting of the fruit before new emergence of new flush.
Two spray of chlorfenapyr 10 EC (3ml/l) or propargite 57 EC (3ml/l) at 15 days interval during July.
Pruning of newly infested twigs during October and spray with chlorfenapyr 10 EC (3ml/l) or propargite 57 EC (3ml/l).
In case the pest is seen, need based spray must be done with above acaricides after panicle initiation and before flower opening.
Precaution/ Alertness
Field sanitation and pruning of infested shoots, leaves and plant parts.
Pest load may be kept under control during the growth phases of litchi plants.
Pest monitoring and timely control measures must be followed.
Safety Measures
Pruning of trees after harvest, field sanitation and removal of young fallen fruits for reducing pest population
Spraying of acaricides should be done at outer as well as inner canopy from all direction of the tree with the help of power sprayer having hollow cone nozzles
Spraying to be imposed only during clean weather, to avoid repeat spray in case of rain event.
Use sticker 0.4ml/l for better results and improved effectiveness during rainy season.
Community based approach is required for effective management of litchi mite.
Source : ICAR - NATIONAL RESEARCH CENTRE