Vaccination Schedule for layers
| | | |
| --- | --- | --- |
| Days | Vaccine | Route |
| 0 day | Mareks Disease Vaccine (HVT) | S/C 0.2 ml |
| 5-7 days | Ranikhet Disease Vaccine- RDVF | O/N |
| 12-14 days | Infectious Bursal Disease Vaccine- Pruning Intermediate Georgia | O/N or water |
| 18-22 days | Infectious Bronchitis | O/N or water |
| 24-27 days | IB Vaccine Booster | Water |
| 28-30 days | RD vaccine Booster- La Sota | Water |
| 6th Week | Fowl Pox Vaccine or Infectious Coryza Vaccine (if prevalent in the area) | S/C |
| 8th Week | RD vaccine- RDVK or R2B | S/C or I/m |
| 9th Week | Fowl Pox Vaccine | Wing web |
| 12th-13th Week | IB Booster | Water |
| 18th week | RD Booster- RDVK or R2B | S/C or I/m |
| 45th-50th Week | RD La Sota repeated every once in 2 Months | Water |
Vaccination schedule for layers vary according to the disease occurrence in different areas
Vaccination schedule for broilers
| | | |
| --- | --- | --- |
| Age | Vaccine | Route of administration |
| First day | Marek's disease (at hatchery) | S/C at neck |
| 5-7th day | RDV F1 | I/O or I/N |
| 14th day | IBD Vaccine | I/O or I/N |
| 21st day | RDV La Sota | Drinking water |
| 28th day | IBD Vaccine (Booster) | Drinking water |
Vaccination schedule for broilers vary according to the disease occurrence in different areas
Source: Expert System on Poultry, ICAR-TANUVAS-TNAU
Bird Flu in India
About bird flu
Birds, just like people, get the flu. Bird flu, also called Avian flu, Avian influenza viruses infect birds, including chickens, other poultry and wild birds such as ducks. Most bird flu viruses can only infect other birds. However, bird flu can pose health risks to people. The first case of a bird flu virus infecting a person directly, H5N1, was in Hong Kong in 1997. Since then, the bird flu virus has spread to birds in countries in Asia, Africa and Europe.
Deadly H5N1 strain hit India in January. More than 3.9 million chickens and ducks were culled to prevent the spread of the virus across the country, Food and Agriculture Organisations said in a statement on Wednesday. No new disease outbreaks have been discovered since Feb. 2, 2008, FAO said. Avian influenza hits mostly birds but its H5N1 strain has killed 234 people since 2003 when it began in Asia, according to the World Health Organisation (WHO).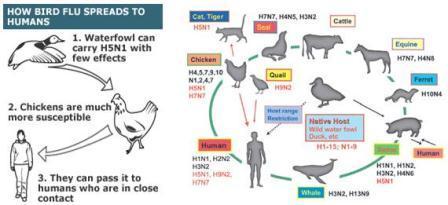 During an outbreak of bird flu, people who have contact with infected birds can become sick. It may also be possible to catch bird flu by eating poultry that is not well cooked or through contact with a person who has it. Bird flu can make people very sick or even cause death. There is currently no vaccine.
Source: NIHSAD
Facts you should know about Bird flu