Bhairabkunda
Bhairabkunda is situated with the wonderfull sites of nature in the tri-junction of Bhutan, Assam and Arunachal Pradesh, is considered to be a God's gift for the
human being. It is located at the northern bed, some 22 km from the district headquarter of Udalguri town. Also prominently known as important tourist place of Shiva' for the pilgrims. Devotees visit the temple frequently and offer pujas to achieve success in their life. Marriageable couples prefer the place for their romantic intimacy. The Shiva temple geographically lies into the Bhutanese territory ,but it is an important pilgrimage for the Indian visitors.The Bhairabkunada is not only the meeting place of geographical borders , but it is also for the river Jia Dhansiri, Bhairavi and Daifam.
Bornadi Wildlife Sanctuary
Bornadi Wildlife Sanctuary is a 26.22-square-kilometre (10.12 sq mi) wildlife sanctuary situated on the foothills of Himalayas bordering Bhutan in the north and
in Udalguri district & Baksa District of Assam. This sanctuary is named after the river Bornadi which flows on its western border. It is 30 km (19 mi) from Tangla town and 130 km (81 mi) from Guwahati. The sanctuary was established in 1980 to protect the hispid hare (Caprolagus hispidus) and pigmy hog (Porcula salvania). Pretty approachable at about 11 km out of library point, the sanctuary is home to many birds such as The White Capped Water Redstart and the Red Billed Blue Magpie. If you are lucky you can also spot some animals including panther, deer, Himalayan goat and even a leopard at times.

Bhairabkunda Tourism Festival
The five-day celebrations to be held at Bhairabkunda, a popular picnic spot located in the Udalguri district.Bhairabkunda is located in the Himalayan foothills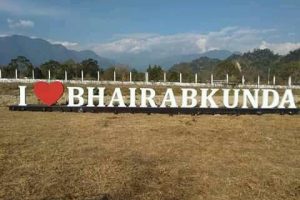 adjoining Assam, Arunachal Pradesh, and Bhutan. Its scenic beauty has been able to make it to the tourism map of the country.Apart from showcasing the culture, the Bhairabkunda fest will feature a series of adventure sports Paragliding, elephant safari, helicopter joy riding, etc. Foodies will have a wide array of ethnic dishes to select from. Fashion show presenting ethnic collection and cultural nights with local and invited artists is the main attractions.Seminars on eco-tourism will also be held to further aid in promoting tourism, keeping the environment in consideration, have also been arranged.