Katyayani Mandir
Katyayani Asthan is situated at distance of approximately 12 kms from the District headquaters, on the bank of river Koshi, between the stations Badlaghat and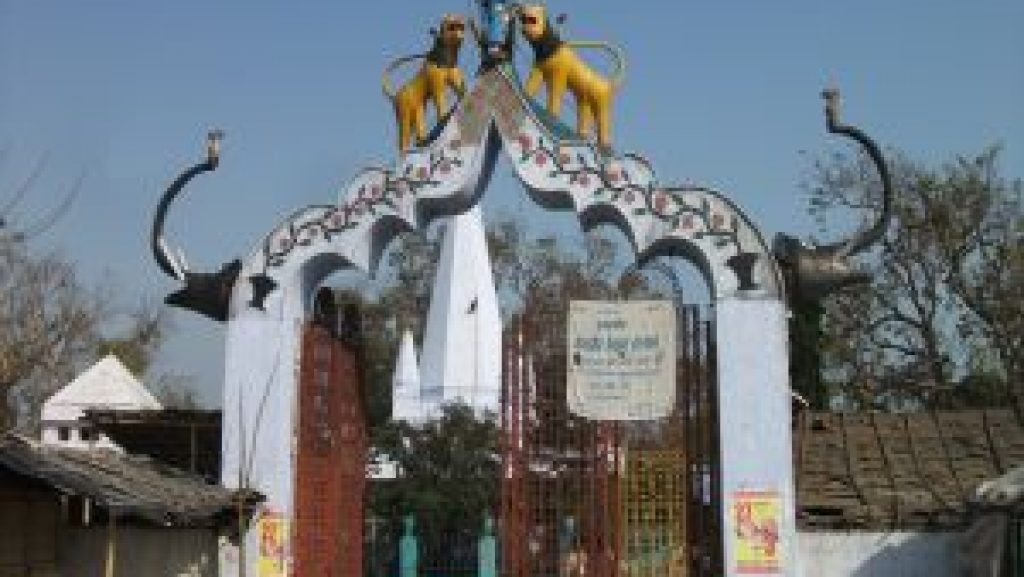 Dhamaraghat , which are stations on Mansi-Saharsa rail line. Temples of Ma Katyayani, as well as of Ram, Lakshman and Ma Janaki is situated at this place. Every Monday and Friday, large number of devotees come to this place to offer puja. As per the local folk traditions, Ma Katyayani is worshiped in two forms in this area. Some devotees worship Ma Katyayani as Sidh Peeth, while a large number of devotees worshiped as Lok Devi- Devi of Milk Cattles. That is why devotees offer raw milk to the deity.
It is said that Rishi Katyayan was performing Tapasya on the bank of river Kaushiki (now Koshi) when Ma Durga- the deity of Shakti took 'avtar' in a child form and was accepted by Rishi as his daughter. Hence she is called Katyayani. Another story says that around 300 years ago, this place used to be a dense forest. One day a devotee Shripat Maharaj saw Ma Katyayani in dream and as per her directions constructed an earthen Temple at that place and started worshiping her. In the year 1951, the temple was reconstructed.
Shyamlal National High School
This high school was established in 1910. Late Shri Shyamlal donated his entire property and formed a trust board under inspiration from Dr. Rajendra Prasad and Dr. S.K. Sinha. The students and teachers of this school played a very important role in the freedom movement. The school used to be a meeting ground of the Krantikaris.
Ajgaibinath Mahadev
This place though currently, in Sultanganj of Bhagalpur district, is very near to Aguanighat of Khagaria district and the temple of Lord Shiva on a hillock has traditionally been a centre of attraction for devotees. The importance of this place situated on the bank of river Ganga, stems from the fact, that Ganga flows northwards (Uttarayan) at this place and devotees after taking bath at this place, lift the Ganga water in 'Kanwar' for offering to Baba Baidyanath in Deoghar, covering a distance of around 105 Kms on foot. The 1960 Gazetteer describes this temple in Parbatta Thana.