'Khadi', in Sanskrit means cotton fabric. The cloth is usually woven from cotton and may also include silk or wool which are all spun into yarn on a spinning wheel called the charkha. India is known to be one of the pioneers of khadi. It is a versatile fabric, cool in summer and warm in winter. Mahatma Gandhi began promoting the spinning of khadi for rural self-employment, selfreliance and to boycott English products during the British rule in India. Thus, Khadi at one point symbolised the ''Swadeshi movement.
Activity
Khadi weaving on solar charkha, Khanwa village, Nawada district, Bihar The GoI launched the Solar Charkha Mission, under the aegis of Ministry of Micro Small & Medium Enterprises (MSME) during June 2018 for reviving the khadi industry. Bhartiya Harit Khadi Gramodyog (BHKGS) under this initiative opened a Training-cum-Production Centre on Solar Charkha at Khanwa village. The centre is dedicated to promotion of Khadi industry and providing employment opportunities to the women residing in nearby areas.
Nature of Intervention
NABARD sanctioned an LEDP with a grant support of Rs.6.00 lakh to Bhartiya Micro Credit for capacity building of 150 SHG members. The objective of the training was to enableSHGmembers toworkonthesolarcharkhaandestablishmicroenterprises so that their economic and social status could be improved. Initial survey of identified village was done to select women belonging to BPL families having limited livelihood options, who were sensitized about the Solar Charkha program and trained at BHKGS's Training-cum-Production Centre. Both backward and forward linkages wereprovidedtotheartisan.After successful completionofthetrainingprogrammes, the trainees were credit linked with the Madhya Bihar Grameen Bank. Subsidy was also provided to the beneficiaries for purchase of solar charkha. The agency also ensuredtoprovidereadymademarkettotheartisans.BHKGShas launchedtheirown brand named Greenwear for khadi products. The agency has also partnered with popularclothingbrands like'W'and 'Aurelia'.
The Impact
Income - Rs.5,000 – 6,000/- per member / month.
Theinitiative providesaboosttothekhadiindustry asalsotheincomeofruralpeople. Solar Charkha is less labour intensive and one person can operate more than one charkha at a time which increases the output. Given the income of the artisans working in the production centre, it can be concluded that a small intervention can go a long way in empowerment of hitherto neglected sections of the society.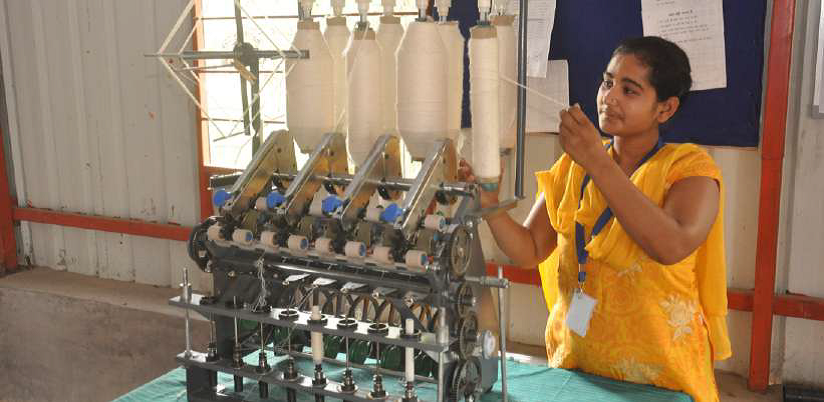 Critical Determinants
Choice of appropriate activity
Proper training for the activity
Provision of backward and forward linkages
Source : Creating Livelihoods, Changing Lives