Background
Dantewada district of Chhattisgarh has been affected by Left Wing Extremism (LWE) for a very long time. Violence in the region has hindered the education of many children. To combat this situation, Astha Vidya Mandir was setup to target the disadvantaged sections of society by providing them safe and modern education facilities.
Intervention
The district administration has set-up a completely residential, free of cost facility for 1,100 students adversely affected by LWE violence – Astha Vidya Mandir. At the residential learning center, English-medium CBSE curriculum is followed. Additionally, the students are provided with exposure to best pedagogical practices, such as incubation and Tinkering labs.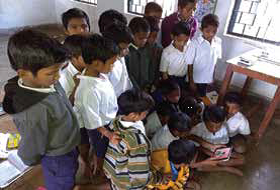 The district has employed innovative means to raise funds for the Astha Vidya Mandir by utilising resources from Corporate Social Responsibility programmes and funds available under District Mineral Foundation.
Impact
Astha Vidya Mandir has been able to attract children from LWE affected areas of all seven districts of Bastar Division. Students from the Centre have won the IGNITE Award for Innovative Ideas awarded by the Hon'ble President of India.
Source : Aspirational Districts