Lata Sahu is a very well-known face in Surgi cluster for her fluency and facilitation regarding various sustainable agriculture models and techniques. She is Krishi Sakhi, Pashu Sakhi and Van Sakhi as well as the Master trainer for livelihoods.
A versatile lady who joined the SHG and not only climbed the ladder through usual savings, Community Investment Funds (CIF) and bank linkage processes but reached the pinnacle through her indomitable grit, energy and determination.
A humble beginning
Back to her childhood she was very inclined to her studies. At the age of 19 her parents arranged her marriage after completion of higher secondary education. As she got married into a farmer family, she got herself involved in agriculture in her in-laws house. Very soon after marriage she had children and her responsibility increased with limited resources, though her in-laws were very supportive. The family had 3 acres of land and her husband used to work as a clerk in a private establishment in Rajnandgaon. But after one year of marriage, he left the job, resulting in further financial distress. Her husband was thinking of setting up a shop as the only way out for sustenance of the family. They considered taking loan from money lender, but realised that the interest rate was too high to make it a viable option. At this time, destiny favoured and professionals from DAY-NRLM, known as BIHAN in the state, came to discuss about self-help group formation. On 22/08/2012, 12 members from the village united to form a self-help group. She became the secretary and book keeper and after 06 months her group received Rs 15000 as revolving fund.
Her journey started as she took the first loan of Rs 5000 from her SHG with very nominal interest rate. In this situation, she decided to open a shop with financial support provided by her SHG. She received Rs 30,000/ as a seed capital for inception of her business. She also received Rs 40,000/- after micro credit planning and bank linkage of her group. She subseqently got Rs 50,000/- from VO (Village Organisation) for further expanding of her business. She set up a shop in which she had provisions of photocopier, online transactions and general store. She was earning Rs 10,000/- per month and becoming economically sound.
Moving to greater responsibilities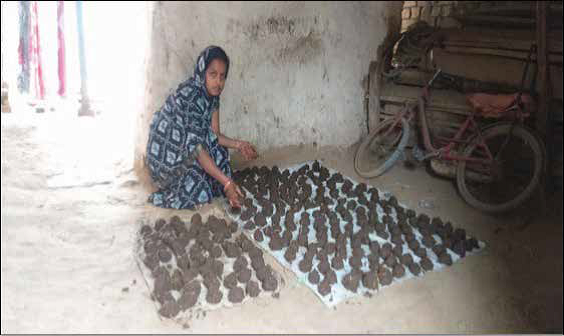 Again, a turning point came when the Community Managed Sustainable Agriculture (CMSA) project started under the national flagship program of DAY-NRLM in 2014. A specialised team of Master community resource person (CRPs) from Andhra Pradesh came and stayed in her location for demonstration and facilitation of different procedures for production enhancement in organic methodology. They focussed on agro ecological practices to maintain ecological balance in the nature, by abandoning chemical fertilizers and pesticides and resorting to only organic inputs in agriculture.
As her interest was in agriculture and she got training as internal community resource person (ICRP). Till date she has attended 25 trainings programmes. Her family was very supportive in her activity and always appreciated her movement and allowed her to attend all the trainings related to this project. In 2014, she was selected by the VO as AKM (Ajeevika Krishi Mitra), who is the extension worker in the village to guide all farmers regarding all the sustainable models for production enhancement. After selection as AKM she went to Raipur for attending the comprehensive module facilitated by CGSRLM regarding sustainable agriculture. She was very nervous while attending such state level training for the 1st time.
She learnt newer techniques, such as paddy cultivation in SRI principles, preparation of kitchen garden, 36*36 model, Ghana jeevamrut, Drabya jeevamrut, seed sorting and seed treatment and root treatment by Beejamrutham, Neemastra, seed bed preparation for seedling. She experienced how the productivity of field crops become stable after application of organic manures and repellents. Moreover, in traditional procedures, the input cost per acre was Rs. 10000 -11000, but it got reduced to Rs. 4000 – 5000 per acre, when organic practices were in paddy cultivation were adopted. Previously the number of tillers in paddy crop grown traditionally was 16 but it was increased to 35 by application of organic manure and organic repellents. It impacted the productivity by 16 quintals per acre in paddy by traditional methods to 24 quintal per acre through organic practices. This change built her confidence and she started replicating it. She was enrolled as a CRP (Community resource person) by the VO and went to Srikakulam for further training. She was very active and facilitated in organising farmers around sustainable agriculture and organic practices. She has served and supported around 650 farmers to enhance productivity in farm livelihood through organic practices.
In the entire journey, trainings and practical demonstration played a major role in changing her perception. Her every bit of learnings were always experimented in her own field to crosscheck the result and benefits the practices claim. National Support Organization - PRADAN plays a major role in capacity building and facilitating different phases of training related to farm livelihood. She says that in the last 5 years, she received 5 categories of training which has made her knowledgeable in the field,
Generic agriculture, that is on ecological activities of various living organisms in the soil and its interconnectedness, different package of practices of various crops. manure and repellents application, modern techniques to enhance productivity like staking, Trellis – Multi layer farming etc. and how to monitor self-work and how to plan monthly activities,
Secondly, the pest and disease infestation and their control, preparation of different decoction and their prophylactic application in different crops and know the importance of NPM shop and how to design it and run it applying the principles of business.
Thirdly, training in crop cutting techniques to measure the productivity and analyse the entire process for further change in the forthcoming season.
Fourthly different practical demonstration for preparation of organic manure and decoction, demonstration of Trellis for production enhancement in vegetables especially in creepers.
Fifthly, trained to deal with planning and evaluation and monitoring of their own work.
Now Lata, as a Master Trainer, is no more a shy lady, she had interacted with Chief Minister and many ministers in many forums. Currently her group is engaged in mushroom cultivation and vermicomposting in Gothan. Her ambition is very high and she dreams to achieve more.