Agriculture interventions
Highlights of the year 2019
13 Local Haats/ Markets linked with an in-housed developed dashboard modeled on ENAM Portal.
Expansion of Strawberry Farming on 50 acres of land.
Increase in area covered under micro irrigation from 702 hectares to 15,327 hectares.
Way Forward
A fruit processing cum micro storage unit to be set up in Hariharganj for pulp extraction from fruits produced in Palamu.
Expansion of area under Strawberry cultivation and other fruits such as Orange, Mango etc.
Development of 4 Farmer technology Centers in Palamu.
Development of an Online portal modeled on existing ENAM portal and link all the 42 Haats in Palamu with it.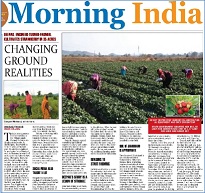 Source : District Administration
© 2006–2019 C–DAC.All content appearing on the vikaspedia portal is through collaborative effort of vikaspedia and its partners.We encourage you to use and share the content in a respectful and fair manner. Please leave all source links intact and adhere to applicable copyright and intellectual property guidelines and laws.