Balaji Temple
The ancient temple of Balaji is said to have been first built by a local named Bhavani Kala, who was the Subhedar at the local Karanja Thana. He soon became

highly respected and was appointed as the 'Divan' (minister) of Sabaji Bhosle and Janoji Bhosle. During the reign of Aurangzeb, apparently the temple idols were hidden beneath the soil, to be disovered years later by a horseman. Records show that the Balaji temple, Washim which is to be seen today was built over a span of nearly 12 years. Bhavani Kala not only built the main shrine for the idols, but also constructed a large area for visiting pilgrims so that they could stay within the temple complex. In addition, a separate area was constructed for the Brahmans to take their meals and rooms were built for administrative offices. The main idol of Balaji is made of black stone and is decorated with ornaments. At the entrance of the temple, you can see the etched words inscribed on the pillars which give the year of the temple as '1700 Shaka'. Some years ago, a stunning gold-plated dome was added to the temple's inner sanctum. On either side of the main Balaji Temple are 2 other temples: one dedicated to Vyankateshvar Balaji, and the other to Ramchandra. In the latter temple are images of Ramchandra, Lakshmana, Sita, Maruti and Rariha Krishna. The festival of Ramnavami is celebrated here annually.
Antariksha Parshwanath Jain Mandir
Antariksha Parshwanath Jain mandir is situated at Shirpur. It is the ancient temple in the city. It is the temple of 23rd Tirthankar of Jain religion. A large number of devottes of Jain religion visit this temple.
Gurudatta Temple Karanja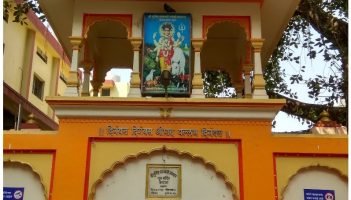 Shri Nrusimha Saraswati Gurumaharaj is the 2nd avatar (incarnation) of Lord Dattatreya. Born in Karanja, He travelled far and wide in what are now known as the States of Maharashtra, Karnataka, and Andhra Pradesh. He achieved Sainthood and performed several miracles. He imparted spiritual knowledge to his disciples, many of whom themselves attained Sainthood.
Poharadevi Temple
Poharadevi is one of the important and well known pilgrimage of Maharashtra particularly workshiped and devoted by Banjara Samaj.