An Inspirational Naval Freedom Fighter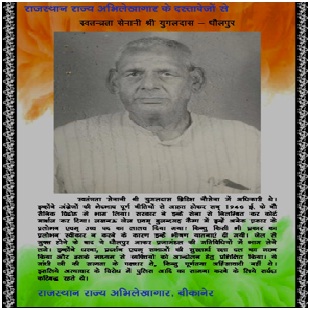 Shri Yugaldas, an official in the Navy, participated in the Naval Revolt of 1946 against the despotic policies of the British.
In order to induce him, the administration offered him high positions in both the Lucknow Jail and Bulandgarh Camp. Upon his refusal to accept these positions, he was tortured by the colonial authorities.
Upon his release from the jail, he came back to Dholpur and protested through the medium of participation in strikes and demonstrations.
He even formed a security team in his district. Although he was a supporter of Mahatma Gandhi, but he did not completely believe in the principle of Non-Violence.
Source : Azadi Ka Amrit Mahotsav
© 2006–2019 C–DAC.All content appearing on the vikaspedia portal is through collaborative effort of vikaspedia and its partners.We encourage you to use and share the content in a respectful and fair manner. Please leave all source links intact and adhere to applicable copyright and intellectual property guidelines and laws.