Shantiniketan
Shantiniketan is situated at 23.68°N 87.68°E at an average elevation of 56 metres (187 feet). The area is flanked on two sides by the rivers, the Ajay and the Kopai. In 1863, Debendranath Tagore took on permanent lease 20 acres (81,000 m2) of land, with two chhatim (Alstonia scholaris) trees, at a yearly payment of Rs. 5, from Bhuban Mohan Sinha, the talukdar of Raipur, Birbhum. He built a guest house there and named it Shantiniketan (the abode of peace). Gradually, the whole area came to be known as Shantiniketan.
Rabindranath Tagore
Rabindranath Tagore first visited Shantiniketan in 1873 when he was 12 years old. In 1888, Debendranath dedicated the entire property for the establishment of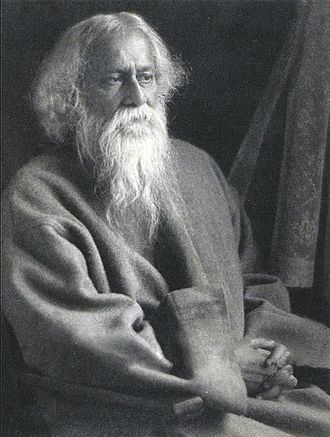 a Brahmavidyalaya through a trust deed. In 1901, Rabindranath started a Brahmacharya ashrama and it came to be known as Patha Bhavana from 1925. In 1913, Rabindranath Tagore won the Nobel Prize in Literature. It was a new feather in the cap of the Tagore family which was the leading family contributing to the enrichment of life and society in Bengal in many fields of activity over a long period of time. The environment at Jorasanko Thakur Bari, one of the bases of the Tagore family in Kolkata, was filled with literature, music, painting and theatre. Founded in 1921 by Rabindranath Tagore, Visva Bharati was declared to be a Central University and an Institute of National Importance in 1951.
Notable places
Rabindra Bhavana
Rabindra Bhavana, founded in 1942, just after the death of the poet, is the focal point of Visva Bharati. It has a museum, archives, library and other units. It houses a major part of Rabindranath's manuscripts, correspondence, paintings and sketches, 40,000 volumes of books and 12,000 volumes of bound journals, photographs and numerous items associated with the poet's life. It is generally one of the first points of interest for anybody visiting Santiniketan. It was established by the poet's son, as a memorial museum and research centre for Tagore studies.
Visva Bharati
Visva Bharati was established as a centre for culture with the objective of exploring the arts, language, humanities, music etc. Specialised institutes came up in different fields: Cheena Bhavana, Hindi Bhavana, Kala Bhavana, Sangit Bhavana, Bhasa Bhavana, Nippon Bhavana, Bangladesh Bhavana and others. Many of these institutes with myriad structures have been decorated by illustrious artists.
To know more about the art work of Shantiniketan, click here.