What is e-Wallet?
E-wallet stands for electronic wallet. It is a type of electronic card which is used for transactions made online through a computer or a smartphone. The utility of e-wallet is same as a credit or debit card. An e-wallet needs to be linked with the individual's bank account to make payments. The main objective of e-Wallet is to make paperless money transaction easier.
Features of e-Wallet
How does it work?
E-wallet has mainly two components, software and information.
Software component stores personal information and provides security and encryption of the data whereas information component is a database of details provided by the user which includes their name, shipping address, payment method, amount to be paid, credit or debit card details, etc.
How do I use e-Wallet?
For Consumer
Download the app on your device.
Sign-up by entering the relevant information. The user will receive a password.
Load money using debit/credit card or Netbanking.
After shopping online, the e-wallet automatically fills in the user's information on the payment form.
Once the online payment is made, the user is not required to fill the order form on any other website as the information gets stored in the database and is updated automatically.
For Merchant
Merchant downloads the app on his/her device.
Sign-up by entering the relevant information. The user will receive a password.
Self-declare yourself as a merchant.
Start accepting payments.
What do I need to start using an e-wallet?
Bank Account.
Smart phone.
2G/3G/4G connection.
A free wallet app .
Must Do Practices
Register your mobile number at bank for regular information by SMS for every transaction .
Never share your PIN to anyone.
Transact at only trusted merchants.
While at ATM, ensure no one is looking over your shoulder.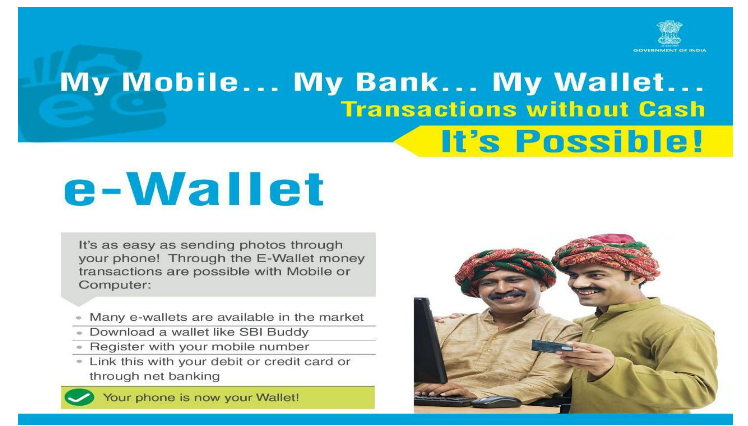 Last Modified : 3/1/2020
© C–DAC.All content appearing on the vikaspedia portal is through collaborative effort of vikaspedia and its partners.We encourage you to use and share the content in a respectful and fair manner. Please leave all source links intact and adhere to applicable copyright and intellectual property guidelines and laws.