Department of Administrative Reforms and Public Grievances, Ministry of Personnel, Public Grievances & Pensions , Government of India celebrates the Good Governance Week during the 19-25 December every year.
Background
In 2014, the Government of India paid tribute to the former Prime Minister of India, Shri Atal Bihari Vajpayee Vajpayee, by declaring his birthday (December 25) as 'Good Governance Day' - Susasan Divas.
The decision to celebrate Good Governance Week (Sushasan Saptah) was taken by the government in the year of Amrit Mahotsav (75th Year of Independence) ie. 2021. The concept of good governance was to be passed through the districts to the villages and the whole system was to be introduced to the concept of 'good governance'.
During the week long celebrations, various activities are taken up to demonstrate the government's commitment towards providing transparent, effective and accountable governance to the people of this country.
Prashasan Gaon ki Aur
Good Governance Week (Sushasan Saptah) campaign "Prashasan Gaon Ki Aur" was launched during 20-25 December 2021 and it aimed at showcasing and replicating the best governance practices to grassroots level. The campaign intended to create a national movement for good governance and motivate the stakeholders both in the government as well as outside the government.
During the week long event, over 700 District Collectors visit Tehsil/Panchayat Samiti Headquarters to provide timely grievance redressal and improve service delivery.
Good Governance Week 2022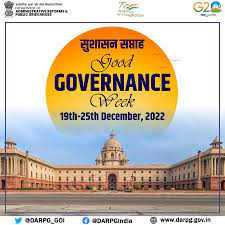 The Second Sushasan Saptah to be celebrated during 19th - 25th December, 2022, aims at furthering Good Governance at every level in India.
As part of the celebrations, a 5-day "Prashasan Gaon ki Ore campaign" is to be organised from 19th December 2022.
The Nation-wide campaign for Redressal of Public Grievances and Improving Service Delivery will be held in all Districts, States and Union Territories of India. Over 700 District Collectors will be participating in the Campaign and officials will be visiting Tehsils and Panchayat Samiti Headquarters.
District Collectors have also identified 81,27,944 applications for Service Delivery to be disposed, along with 19,48,122 Public Grievances to be redressed in State Grievance Portals.
The Sushasan Saptah will witness the Nation's Grievance Redressal Platforms functioning in unison – Grievances received on CPGRAMS will be redressed along with Grievances received on State portals. This is the second time in Amrit Kaal Period, that the Government of India will be conducting a National Campaign at Tehsil level to address Public Grievances and Improving Service Delivery. Prashasan Gaon ki Ore Abhiyaan will create a national movement for good governance that will inspire future generations.
373 Best Good Governance Practices have been identified for discussion in District Level Workshops on December 23, 2022. 43 Success Stories in Public Grievances will also be shared during the Good Governance Week-2022, "Sushasan Saptah" from 19th to 25th December, 2022.
3,120 New Services identified by District Collectors across the country will be added for Online Service Delivery.
Source : DARPG