NITI Aayog, along with the Institute for Competitiveness releases the India Innovation Index.
About the Index
The India Innovation Index aims to create an extensive framework for the continual evaluation of India's innovation environment. The index aims to rank states and UTs based on their scores, recognize opportunities and challenges, and assist in tailoring government policies to foster innovation.
NITI Aayog, with its mandate of promoting 'competitive federalism' among all states and union territories, is committed to utilize the India Innovation Index in catalysing the innovation outcome of the nation.
Second edition of III
The report examines the innovation capabilities and performance of the states and union territories. The first edition of the index was launched in October 2019.
In the second edition too, the index found that the level of competitiveness among the states and union territories was high, which is essential for them to continually improve on their enabling factors as well as innovation performance, year by year.
In the 'Major States' category, Karnataka continued to occupy the top position, while Maharashtra moved past Tamil Nadu to reach the second place. Telangana, Kerala, Haryana, Andhra Pradesh, Gujarat, Uttar Pradesh and Punjab completed the top ten in that order. Karnataka's rank is attributable to its substantive number of venture capital deals, registered geographical indicators and information andcommunications technology exports. Karnataka's high Foreign Direct Investment (FDI) inflow has also enhanced the innovation capabilities of the state. Four southern states—Karnataka, Tamil Nadu, Telangana and Kerala—occupied the top five spots under the 'Major States' category this year.
Overall, Delhi retained itsfirst rank, while Chandigarh made a big leap since 2019 and landed in the second place this year. Under the 'North-Eastern/Hill States' category, Himachal Pradesh moved up from the second position to emerge as the top ranker this year, while 2019's top performer (in this category), Sikkim, slipped down to the fourth position.
The innovation inputs were measured through five enabler parameters, and the output through two performance parameters. While 'Human Capital', 'Investment', 'Knowledge Workers', 'Business Environment', 'Safety and Legal Environment'were identified as enabler parameters, 'Knowledge Output' and 'Knowledge Diffusion'were chosen as the performance parameters.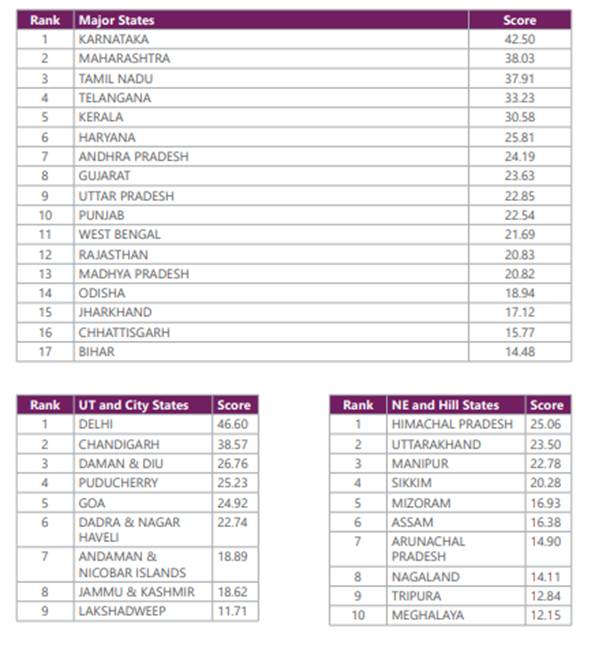 To access the complete report, click here.
Source : NITI Aayog