Public distribution system in India
The Public Distribution System (PDS) in the country facilitates the supply of food grains and distribution of essential commodities to a large number of poor people through a network of Fair Price Shops at a subsidized price on a recurring basis.
With a network of more than 4 lakh Fair Price Shops claiming to distribute annually, commodities worth more than Rs 15,000 crore to about 16 crore families, the PDS in India is perhaps the largest distribution network of its type in the world.
e-PDS portal
e-PDS portal is intended to be an one-stop information for Public Distribution System (PDS). The portal aims to bring in transparency by disseminating data, information, news etc., related to PDS.
The portal provides the following
Allocation and offtake details
Storage capacity of National and state godowns
PDS stakeholders information - state and national level
PDS beneficiaries register and ration card information
Fair price shop details
Links to PDS related websites of various States
To know more, click here.
Mera Ration app
Department of Food & Public Distribution under Ministry of Consumer Affairs, Food & Public Distribution has developed a Mobile Application "MERA RATION", to facilitate various ONORC related services among NFSA beneficiaries, particularly migrant beneficiaries, FPS dealers and other relevant stakeholders.
Salient features of the mobile app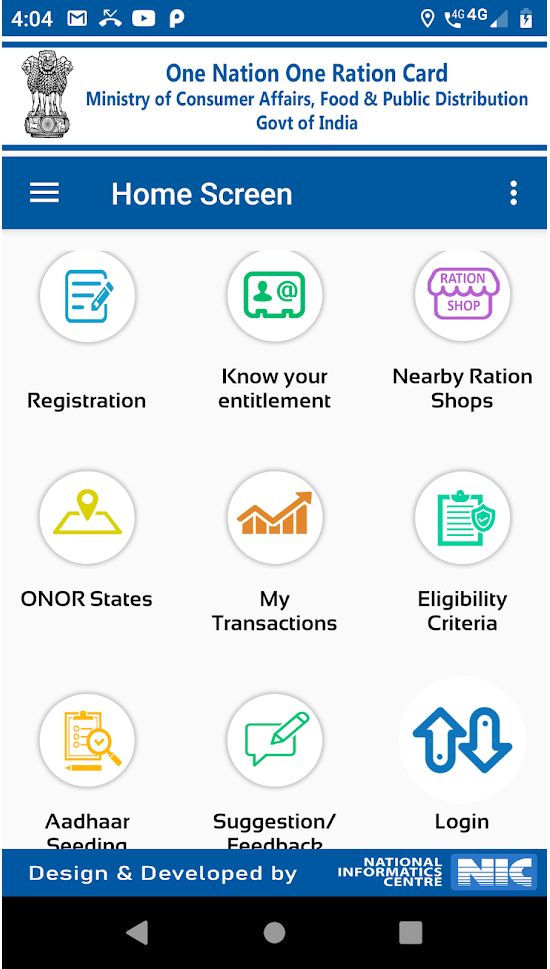 Some of the salient features of this application are:
Beneficiaries can identify and locate the nearest fair price shop.
Beneficiaries can easily check details of their:

Food grain entitlement
Recent transactions
Status of Aadhaar seeding

Migrant beneficiaries can register their migration details through the application.
Option for beneficiaries to enter suggestions/feedback.
Application is currently available in English and Hindi.
More functionalities will be added in the application with time to improve its utility and extend additional services.
How to download the app
To download the app for Android mobiles, click here.
State PDS portals
To know the state-wise beneficiaries list, click on the respective state links.
Source : PDS portal of India