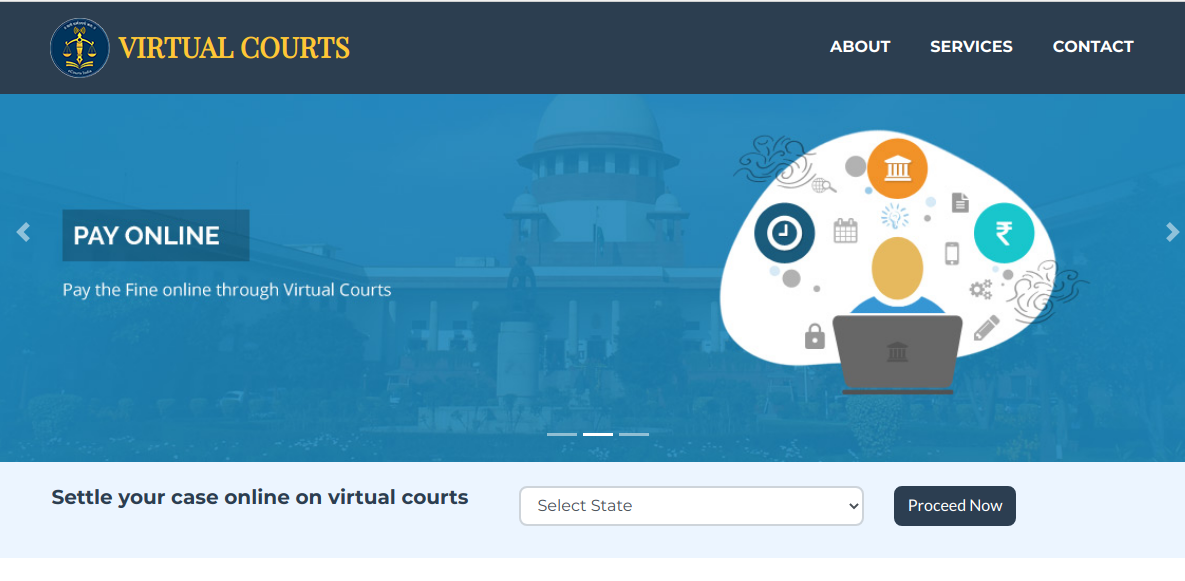 Virtual Courts is a concept, aimed at eliminating the presence of litigant or lawyer in the court and for adjudication of cases on a virtual platform. The concept has been evolved in order to efficiently utilize court resources and to provide litigants with an effective avenue to settle petty disputes.
Virtual Court can be administered by a Judge over a virtual electronic platform whose jurisdiction may extend to the entire State and function 24X7. Neither litigant nor Judge would have to physically visit a court for effective adjudication and resolution. Communication would only be in electronic form and sentencing and a further payment of fine or compensation would also be accomplished online. These courts may be used for disposal of cases where there may be proactive admission of guilt by the accused or proactive compliance of the cause by the defendant on receipt of the summons in electronic form. Such matters may be treated as disposed of after the payment of the fine.
Since it is essential to firstly identify the type of cases which can be effectively disposed of by Virtual Courts, presently and as part of the pilot project the following categories of cases have been found feasible to be tried in virtual courts:-
Offences under Motor Vehicle Act (Traffic Challan Cases)
Petty Offences where summons can be issued under Section 206
For More Information Visit Virtual Courts Portal.
eCourts Fee Payment
Service enabling online payment of court fee, fine, penalty and judicial deposits. The ePayment portal is also integrated with state-specific vendors like SBI ePay, GRAS, e-GRAS, JeGRAS, Himkosh etc.
For More Information Click Here.
NJDG, a flagship project implemented under the aegis of the eCourts project, has been recognized as a significant innovation under the Ease of Doing Business initiative of the Government of India. The portal is a national repository of data relating to cases pending and disposed of in all district and taluka courts of the country. The portal has been developed around the concept of elastic search technology enabling efficient case management and monitoring of cases leading to effective disposal of cases.
National Judicial Data Grid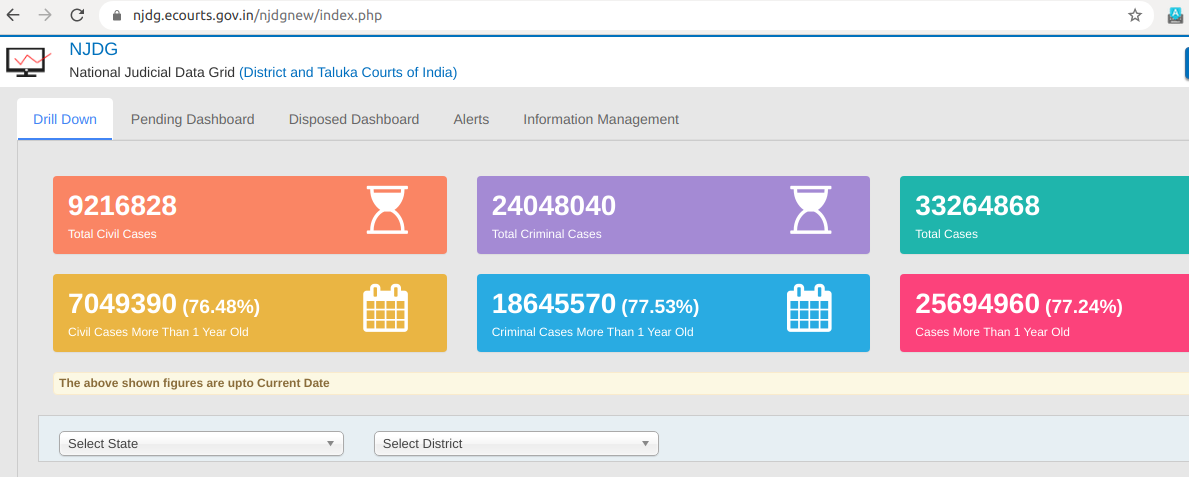 Data uploaded and collated on the portal can be accessed and analysed:-
Category wise
Year-wise
State-wise
Month-wise disposal of cases across institutions
Across the original/appellate/execution stages of a litigation
Reasons for delay
NJDG gives the consolidated figures of cases instituted, disposed and the pendency of cases in all courts across the country. These statistics are updated every day by respective courts. The website shows the number of cases filed as well as cases pending. The visitor can access information down to a particular case. The pending cases divided between civil and criminal jurisdictions can be further segregated into age-wise categories such as ten years old cases, between 5 to 10 years old cases etc. The pendency data at the national, state and district levels are open and in the public domain.
High Court Services
A central repository of information and data pertaining to High Courts are available on this portal. Details of 46,37,128 (4.6 million) pending cases are available on the website.
For More Information Click Here.
eCourts Services Portal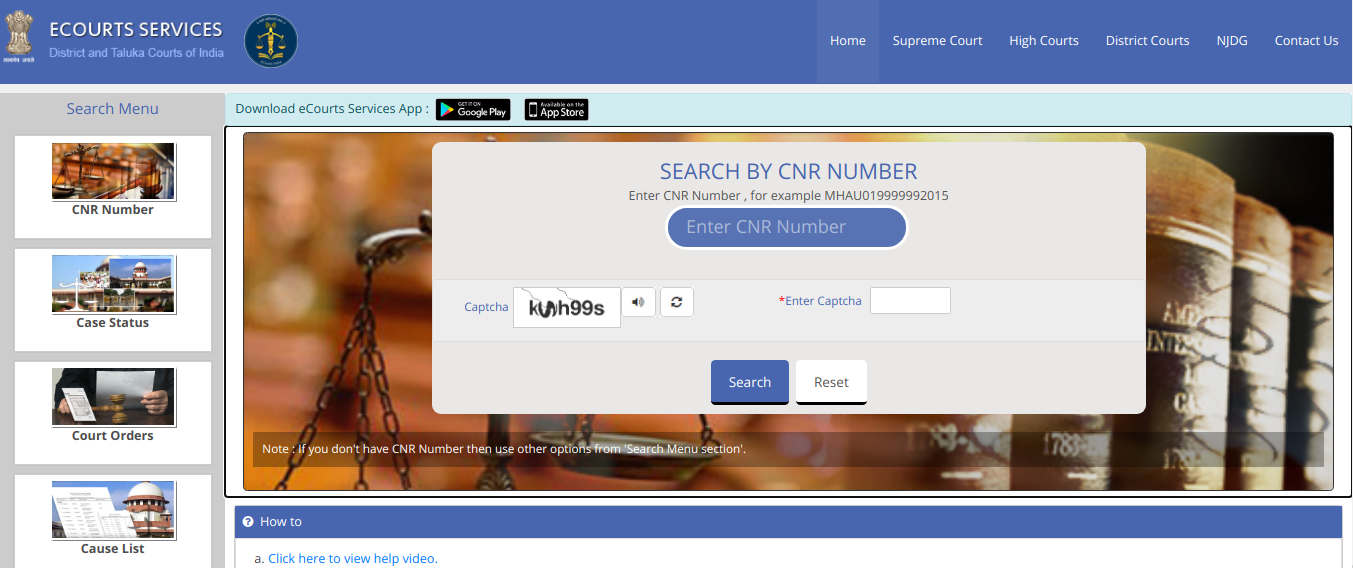 A centralised gateway providing links to several initiatives and services provided under the eCourts project. It enables stakeholders such as citizens, litigants, lawyers, government and law enforcement agencies to access data and information relating to the judicial system of the country. The eCourts National portal works as an online repository of data providing a host of services and diverse information such as:
Cause list
Case Status: Case Status may be accessed across various search parameters such as case number, FIR Number, party name, advocate name, filing number, Act or case type
Daily orders and final judgments: Orders and final judgments can be similarly accessed through CNR number, Case Number, Court Number, Party Name and Order Date.
For More Information Click Here.
eCourts Services Mobile App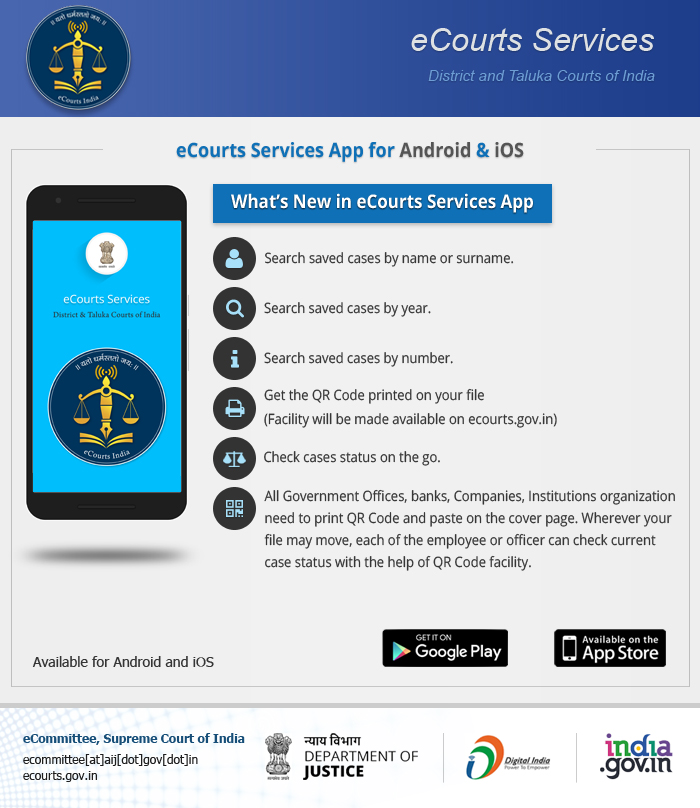 eCourts services mobile application received the Digital India award as a revolutionary court information tool in the country. eCourts Services mobile application is available on Google Play Store and Apple App Store. Case status, cause lists, Court orders can be accessed through this mobile app, making these services available 24X7. It is a useful tool for members of the judiciary, advocates, litigants, police, government agencies and other stakeholders. It facilitates retrieval of data relating to cases pending in the court system across various parameters such as CNR [a unique number assigned to each case filed in a district or taluka court], parties name, advocates name, FIR number, case type or relevant Act.
The data available on the National Judicial Data Grid (NJDG) for district and taluka courts can now be accessed through this mobile app. The number of downloads has reached more than 58,15,211 (5.81 million) as of 07.05.2021 and is demonstrative of the popularity and utility of this application.
The app has been updated with a QR code feature. A user can consequently get case details on a mobile phone by simply scanning the QR code. The QR code can be obtained from the eCourts website and eCourts services mobile application. It also incorporates a 'History of the Case' feature which enables one to view all events relating to and orders passed in a particular case from the time of its first hearing down to its current status. Links are provided in the app itself to view judgments and orders passed in cases. The Date Case List feature facilitates the generation of cause lists for advocates.
Click here for Manual on e-Courts Services Mobile Application.
eCourts Portal
A centralised gateway providing links to all the e-Courts services websites. The following e-Courts websites can be accessed:
For More Information Click Here.
Touch Screen Kiosks
Touch screen kiosks are installed at various court complexes across the country. Litigants and advocates can view and obtain information relating to case status, cause lists and other important information relating to pending cases at these stations. Similarly, information can also be obtained from the judicial service centre established at each court complex.
Automated Email
The CIS software is designed to automatically send emails to advocates and litigants with details of the status of cases, date of the next hearing, cause list, judgments and orders. The intended user has to register a user email on the CIS software. Emails are then sent to litigants, advocates, registered law enforcement agencies and government departments. The system is designed to generate daily notifications for cause lists and important events like next dates, transfer of case and disposal. It also facilitates the mailing of orders/judgments in a pdf format.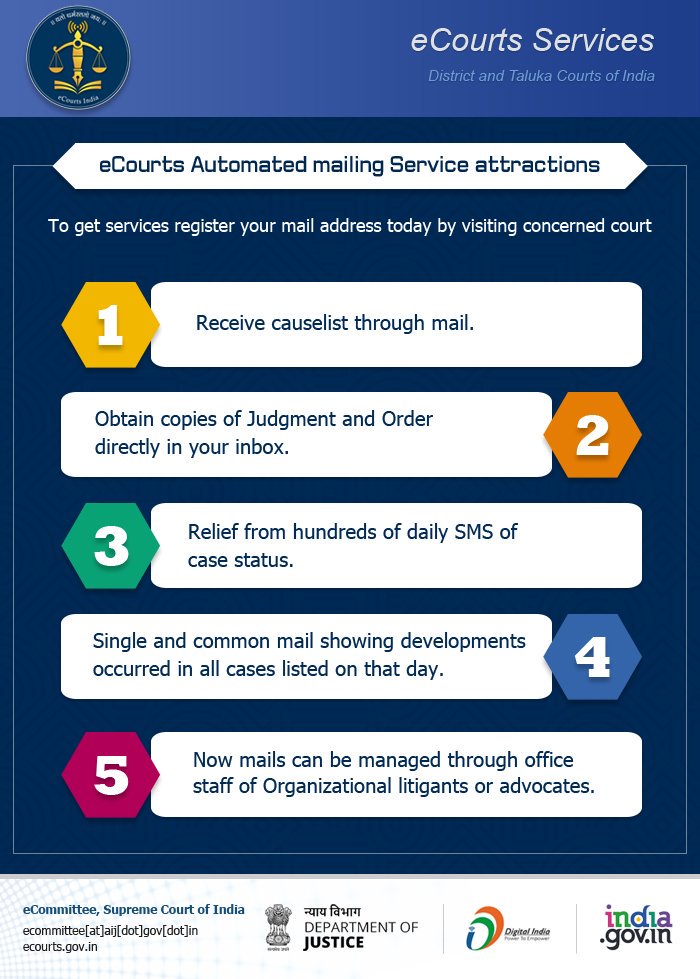 SMS Pull
For litigants who do not have internet connectivity case details can be got through the SMS Pull application by sending unique CNR number (Case Number Record) to 9766899899 through SMS. The format of the SMS is E-Courts to 9766899899. The case details will be automatically sent as a reply SMS to the user mobile.
District Court Portal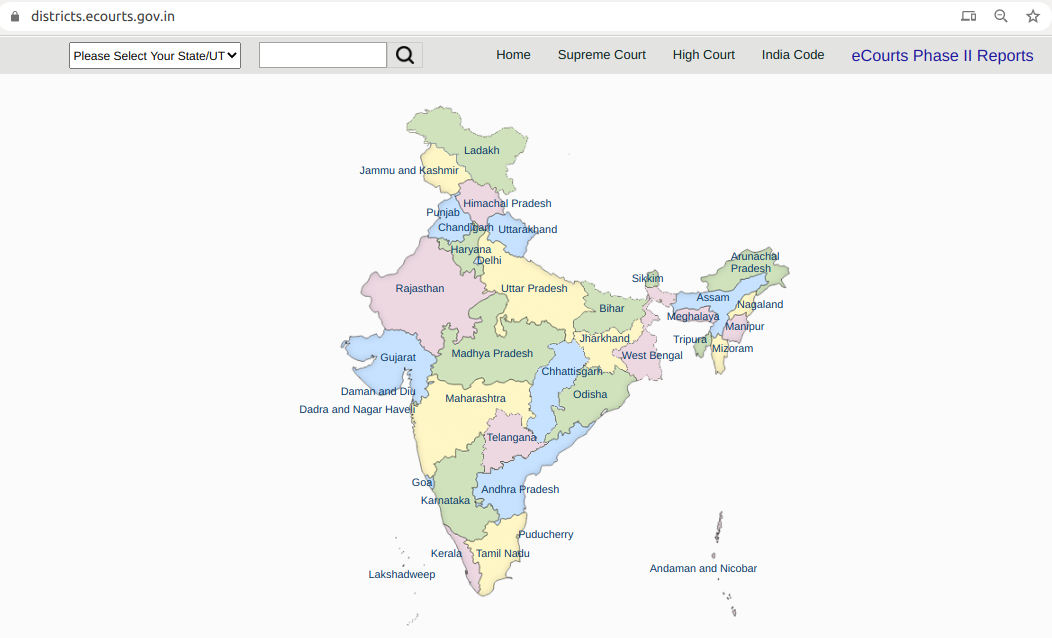 A centralised portal leading a user to the individual District Court websites of the country. Information pertaining to each District Court can be accessed via this portal which acts as the gateway to 688 District Court websites.
The individual websites show a list of judicial officers working in a District, list of judges on leave, important recruitment announcements, circulars, the jurisdiction of courts and police stations. Relevant data and information relating to district court services such as case status, court orders, cause list are also available on this portal. The information is accessible from anywhere obviating visits to court complexes reducing footfall and consequently reducing the load on the physical infrastructure of courts.
For More Information Click Here.
e-Seva Kendras
e-Seva Kendras have been created in the High Courts and in one District Court in each State on a pilot basis. It enables litigants to obtain information with respect to case status and to obtain copies of judgments and orders. These centres also extend assistance in e-filing of cases. These Kendras represent a significant step for the common man and his right to access to justice.
Facilities to be Provided in e-Seva Kendra
e-Seva Kendras shall initially roll out following services for litigants and lawyers:-
Handling inquiries about case status, next date of hearing and other details.
Facilitate online Applications for certified copies.
Facilitate e-Filing of petitions right from the scanning of hard copy petitions, appending eSignatures, uploading them onto CIS and generation of filing number.
To assist in online purchase of e-Stamp papers/ePayments.
To help in applying and obtaining Aadhaar based digital signature.
Publicise and assist in downloading the Mobile App of eCourts for Android and IOS.
Facilitate in the booking of eMulakat appointments for meeting relatives in jail.
Handling queries about Judges on leave.
Guide people on how to avail free legal services from the District Legal Service Authority, High Court Legal Service Committee and Supreme Court Legal Service Committee.
Facilitate disposal of traffic challan in virtual Courts as also online compounding of traffic challans and other petty offences.
Explaining the method of arranging and holding a video conference court hearing.
Provide soft copies of judicial orders/judgments via email, WhatsApp or any other available mode.
e-Filing
e-Filing system enables electronic filing of legal papers. Using e-filing, cases (both civil and criminal) can be filed before the High Courts and District Courts that have adopted e-Filing systems. Introduction of e-Filing is aimed at promoting paperless filing and saving time and cost by adopting technological solutions to file cases before courts in India.
For More Information Click Here.
Source : e-Committee, Supreme Court of India