The Inter-operable Criminal Justice System (ICJS), conceptualised by the eCommittee, Supreme Court of India and implemented as a project under the Ministry of Home Affairs, seeks to enable seamless transfer of data and information among different pillars of the criminal justice system, like courts, police, jails and forensic science laboratories, from one platform.
Objectives
Interoperability of data across all Pillars of criminal Justice System: In order to build an effective criminal justice system across the country, it is essential that data across all pillars of criminal justice is interoperable and is accessible across all the pillars.
National Crime & Criminal Data Search across all Pillars: It is also essential that the crime & criminal data is available at a centralized/ national application for search across data from all pillars using key identify fields such as FIR, Case No, Prison ID, etc. This shall help in tracing a record from right from registering FIR against suspects to imprisonment of convicts till the imprisonment period involving court case details, trials/ judgments, prosecution & forensics information.
MIS Dashboard and Reporting of FIR/Case/ Case pendency/ Prisons/ Prisoner status based information for investigation, search, case history, judgments provided, and other details pertaining to criminal justice required from time to time.
Data Analytics for Forecasting/ Predictive Trends in Crimes reported region-wise, category-wise, and basis other parameters for effective management & control of crimes in future.
Seamless data sharing across all pillars through a common Network Connectivity: It is essential that all sites are connected through a common, dedicated, high speed, robust & reliable network for seamless exchange & interoperability of data between all pillars of ICJS such as crime & criminal related data such as FIR information, Court case data with photographic/video-graphic & documentary evidences, videorecordings of court proceedings, and for enabling court proceedings over video conferences for faster delivery of justice in the country.
Features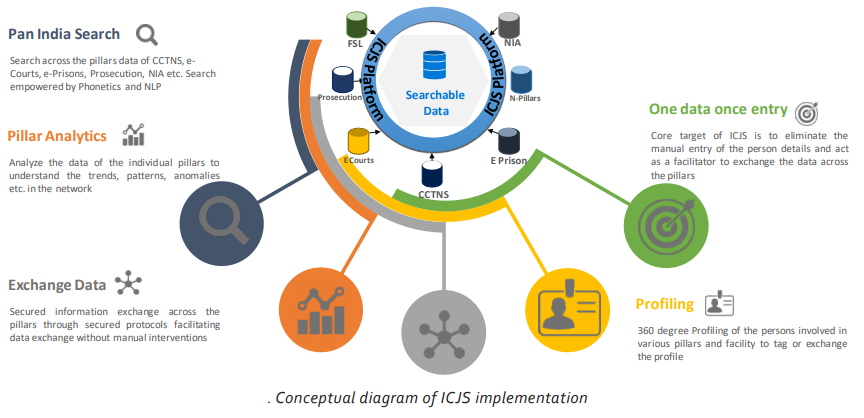 The ICJS system would be made available through a dedicated and secure cloud-based infrastructure with high speed connectivity.
Inter-Operable Criminal Justice System (ICJS) is a national platform for enabling integration of the main IT system used for delivery of Criminal Justice in the country by five pillars namely:-
Police (Crime and Criminal Tracking and Network Systems),
e-Forensics for Forensic Labs,
e-Courts for Courts,
e-Prosecution for Public Prosecutors
e-Prisons for Prisons.
In Phase-I of the ICJS project (2018-2022), individual IT systems have been implemented and stabilized; also search of records have been enabled on these systems.
Under Phase-II (2022-23 to 2025-26), the system is being built on the principle of 'one data one entry' whereby data is entered only once in one pillar and the same is then available in all other pillars without the need to re-enter the data in each pillar.
Implementation agencies
National Crime Records Bureau (NCRB) will be responsible for the implementation of the project in association with National Informatics Center (NIC). The project will be implemented in collaboration with the States and Union Territories.
Benefits
With the aid of the ICJS platform, the metadata of FIR and charge sheet can be accessed by all the High Courts and subordinate courts. Documents like FIR, case diary and charge sheet are uploaded by police in PDF format for utilization by the courts.
The ICJS platform is an effective tool for the case and court management, as all the relevant information of a case will be available in real-time for use by the courts. Compliance of judicial orders and summons can also be achieved expeditiously, ensuring effective time management. The ICJS is going to be a milestone to enhance the productivity of the criminal justice system both qualitatively and quantitatively.
Source : MeitY