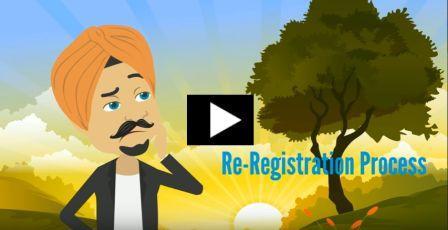 ×
Watch Video on CSC Re-registration.
Online CSC Registration Form Process Flow
For registration of New CSCs please flow the following steps:
Click on the weblink: https://register.csc.gov.in/register
To complete your registration, Enter a valid Mobile Number, Enter captcha and Proceed to click on submit. NOTE: For any communication purpose your given mobile and email will be used till the creation of CSC ID. Also, one mobile number cannot be used to register for multiple CSC Ids.
The next step for registration is authentication. You need Virtual ID (VID). VID is a temporary, revocable 16-digit random number mapped with the Aadhaar number. It is not possible to derive the Aadhaar number from VID. Visit the link: https://resident.uidai.gov.in/vidgeneration to generate/retrieve your VID.
Documents required
a) Applicant photo
b) Copy of highest educational certificate
c) Proof of Identity
d) Proof of Address
e) Cancelled copy of cheque
f) Pan Card Copy
g) CSC Centre Photos (Inside and Outside)
On successful authentication, a form opens. Please fill the details and Submit.

After the registration is complete, you receive an acknowledgement number for further reference.You will receive an acknowledgement email regarding successful completion of your application on your email address provided during the registration process.

It is mandatory for the user to download a copy of the form and submit the same to the District Manager available in the nearest CSC office along with a copy of self attested documents (cancelled cheque/passbook, PAN card, and applicant image). To access contact details of state /district manager click here.
Registration application status
What to do if application is rejected
Understand the reason behind rejection of the application and then Apply again.
Please be aware that CSC centre registration application is free. Please do not pay any fees/money to anybody for registration or any other CSC related activities.
Contact details for assistance
Helpline Number : 1800 3000 3468; Email : care@csc.gov.in ; helpdesk@csc.gov.in
To access contact details of state /district manager click here.
Source : CSC portal
Last Modified : 7/1/2021
© C–DAC.All content appearing on the vikaspedia portal is through collaborative effort of vikaspedia and its partners.We encourage you to use and share the content in a respectful and fair manner. Please leave all source links intact and adhere to applicable copyright and intellectual property guidelines and laws.