This Section Contains How to Register User for Applying Online Services in Meeseva Online Portal. Below Steps needed for Registering New User.
Why to register?
User can access the services 24/7 from any place.
User can login directly and raise service request without going to Department or any kiosk centers.
User can check the status of the service request raised.
User can know more updates on Meeseva services.
The payment can be done securely using Debit/Credit cards.
Procedure for Registering New User
Visit Mee Seva website home page and select Meeseva Online Portal, as shown below.
Meeseva Online Portal Log in page is displayed, as shown below.

Click New User Registration link as depicted below.
After Selection of New User Registration, the Registration form opens as shown below.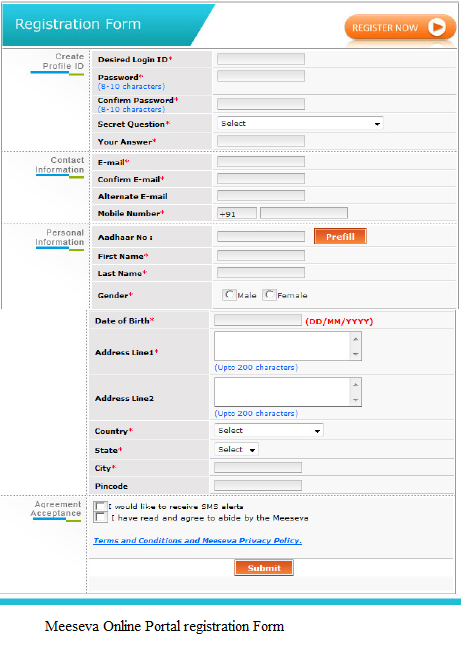 Enter all details such as Desired Login ID, Password, Confirm Password, Secret Question and Your Answer as shown below.
Note:- Requirements for
User ID
1. First Character should be an alphabet
2. 6-10 Characters Length
Password
1. One upper case Alphabet
2. One Lower case Alphabet
3. 8-10 Characters Length
Enter Contact Information such as Email, Confirm Email, Alternate Email and Mobile no as depicted below.
Enter Personal Information details such as Aadhaar No, First Name, Last Name, Gender, Date of Birth, Address Line1, Address Line2, Country, State, City and Pin Code as depicted below.
Select SMS alert as shown below.
Click Submit Button for Registration Submission as depicted below.

After Submission, One Time Password panel is generated as depicted below.
Note: Here citizens receive One Time Password to his/her Registered Mobile Number.
Enter One Time Password and click "Confirm: button as depicted below.

After Confirmation, a message "Thank you for registering! A confirmation email has been sent to registered mail ID. Please click on the Activation Link to Activate your account" is displayed.

Note: A user account will be Activated after the user clicks the activation Link sent through mail to the registered email id.
Once clicking of Activation link is done, a message "Congratulations your Account has been Activated" will be displayed.
Source: MeeSeva