Ashokan Rock Edict and Sculpture of Elephant
The Asokan Edicts below the forepart of the rock-cut elephant have
furnished the standard version of Rock-Edicts 1 to 10 and 14 by replacing Rock-Edicts 11-13 with two special Edicts which are also repeated in the Asokan inscription at Jaugada in Kalinga (Odisha).
The forepart of the elephant is labeled Gajjatame symbolizing the conception of the Buddha. It is datable to third century B.C.
Sun Temple, Konarak
Konark, also known as Arka-kshetra or Padma-kshetra, owes its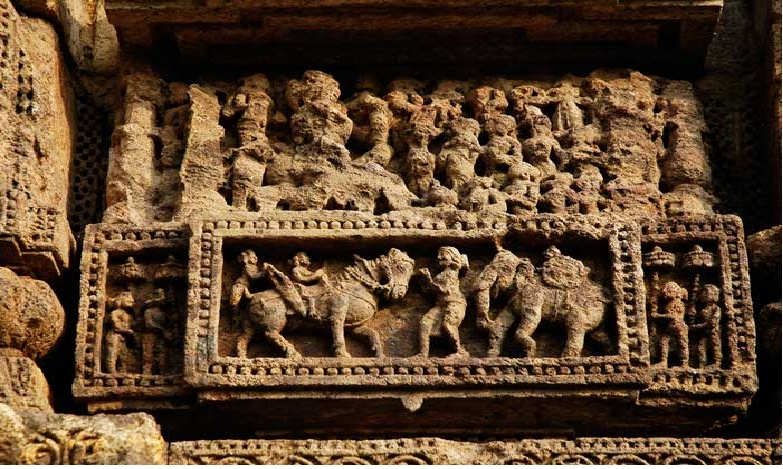 singular distinction the Sun temple located here. Built in the thirteenth century A.D by the king Narasimhadeva-I (1238-64 A.D.) of the Ganga dynasty, the patron deity of the temple was Sun or Arka. The temple marks the culmination of art and architecture of medieval Odisha. The temple resembles a colossal chariot with 12 pair of wheels lavishly sculpted with symbolic motifs and is pulled away by seven spirited horses. The temple comprised of a sanctum with a lofty sikhara (now lost), a Jagamohana or mandapa, 38m high and a detached nata-manadapa in the same axis, all enclosed in a compound wall subsidiary shrines.The sanctum and the nata-mandapa have lost their roof, the Jagamohana alone having preserved its roof intact. The sanctum displays superb images of the Su god in the three projections, while the roof tiers of the Jagamohana harbor colossal figures of female musicians. Several other subsidiary structures are also found within the enclosed area of the rectangular prakara. Among them, the Mayadevi and Vaishnava brick temples are worth mentioning.
Udayagiri and Khandagiri Caves
The twin hills of Khandagiri and Udayagiri in Bhubaneswar, anciently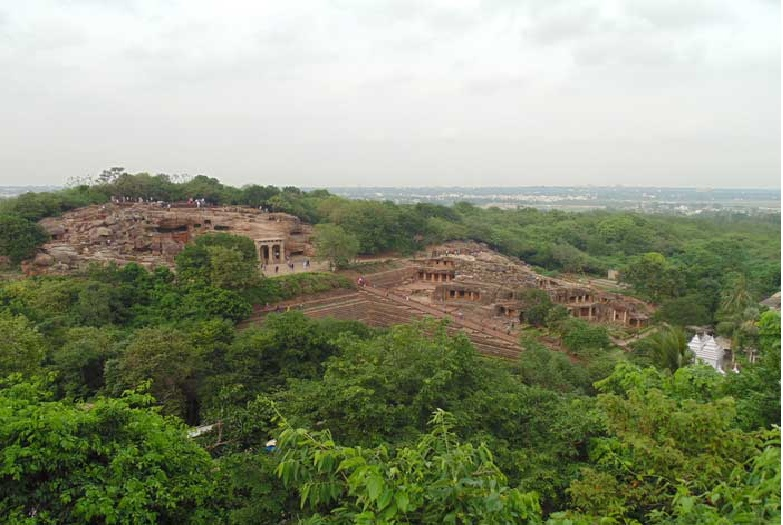 known as Kumara and Kumari parvatas respectively represent one of the earliest groups of Jaina rock-cut architecture in eastern India in the fields of history, rock-cut architecture, art and religion. There are all together eighteen caves in the Udayagiri and fifteen caves in the Khandagiri. The excavation of these caves was first initiated by Kharavela and his successors around the first century B.C. The rock hewning activities continued till the time of the Somavamsis of tenth-eleventh century A.D.
Source: Must See Indian Heritage