Hazarduari Palace
The Palace is known as Hazarduari because it contains about a thousand real and false doors. It was built by Nawab Nasim Humayun Jah (1829-37 A.D.). The Palace was used for holding Durbar and as residence of high ranking English officials. At present, it serves as a period Museum displaying a vast array of interesting exhibits which include life size paintings of the Nawabs of Murshidabad, British royal personages, throne, palanquins, silver thrones, armour used in various battles in the region, vases, ivory and marble objects etc.
Cooch Behar Palace, Koch Bihar
The magnificent palace was built by Maharaja Nripendranarayan in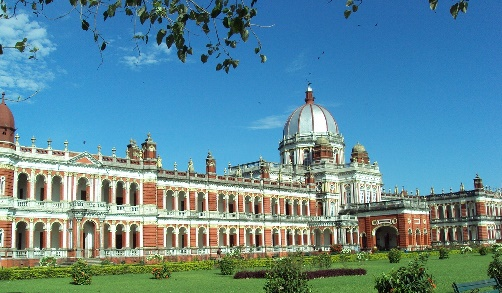 c.1847 A.D. following the plan and design of neo-classical European style. The double storeyed brick building is raised on a basement terrace. It is approached through a porch-in-antis which has on its either side an arcaded verandah. Similar verandah also runs longitudinally in the first storey. The porch leads to the Durbar hall. It is surmounted by a guilded dome. On the top of the dome is placed a lantern.
Source: Must See Indian Heritage
© 2006–2019 C–DAC.All content appearing on the vikaspedia portal is through collaborative effort of vikaspedia and its partners.We encourage you to use and share the content in a respectful and fair manner. Please leave all source links intact and adhere to applicable copyright and intellectual property guidelines and laws.