24 January is commemorated as the International Day of Education in celebration of the role of education for peace and development.
Background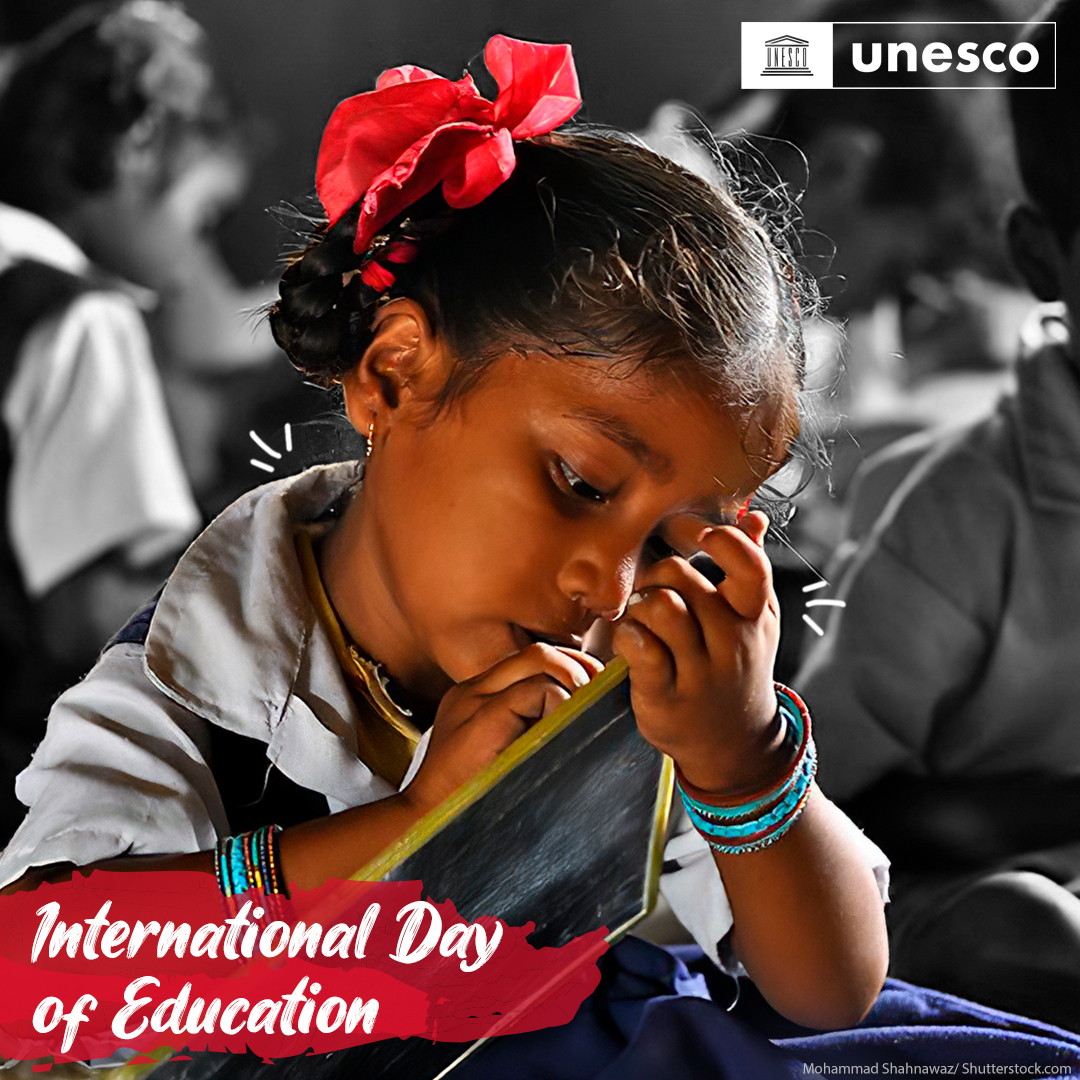 On 3 December 2018, the United Nations General Assembly adopted with consensus a resolution proclaiming 24 January as International Day of Education, in celebration of the role of education for peace and development.
The adoption of the resolution 73/25 "International Day of Education", co-authored by Nigeria and 58 other Member States, demonstrated the unwavering political will to support transformative actions for inclusive, equitable and quality education for all.
By doing so, the international community reiterated that education plays a key role in building sustainable and resilient societies, and contributes to the achievement of all other Sustainable Development Goals.
With a view to enhance international cooperation in supporting the efforts towards the realization of Sustainable Development Goal 4, the resolution called on all stakeholders including Member States, organizations of the UN system, and civil society, non-governmental organizations, academic institutions, the private sector, individuals and other relevant stakeholders to observe the International Day of Education.
UNESCO, as the specialized United Nations agency for education, facilitates the annual observance of the Day in close collaboration with main education actors.
Education key to development
Education is a human right
The right to education is enshrined in article 26 of the Universal Declaration of Human Rights. The declaration calls for free and compulsory elementary education. The Convention on the Rights of the Child, adopted in 1989, goes further to stipulate that countries shall make higher education accessible to all.
Education is key to sustainable development
When it adopted the 2030 Agenda for Sustainable Development in September 2015, the international community recognized that education is essential for the success of all 17 of its goals. Sustainable Development Goal 4, in particular, aims to "ensure inclusive and equitable quality education and promote lifelong learning opportunities for all" by 2030.
Challenges to achieving universal education
Education offers children a ladder out of poverty and a path to a promising future. But about 258 million children and adolescents around the world do not have the opportunity to enter or complete school; 617 million children and adolescents cannot read and do basic math; less than 40% of girls in sub-Saharan Africa complete lower secondary school and some four million children and youth refugees are out of school. Their right to education is being violated and it is unacceptable.
Without inclusive and equitable quality education and lifelong opportunities for all, countries will not succeed in achieving gender equality and breaking the cycle of poverty that is leaving millions of children, youth and adults behind.
Theme for 2022 - Changing Course, Transforming Education
This year's International Day of Education will be a platform to showcase the most important transformations that have to be nurtured to realize everyone's fundamental right to education and build a more sustainable, inclusive and peaceful futures. It will generate debate around how to strengthen education as a public endeavour and common good, how to steer the digital transformation, support teachers, safeguard the planet and unlock the potential in every person to contribute to collective well-being and our shared home.
Gaping inequalities, a damaged planet, growing polarization and the devastating impact of the global pandemic put us before a generational choice: Continue on an unsustainable path or radically change course.
Transforming the future requires an urgent rebalancing or our relationships with each other, with nature as well as with technology that permeates our lives, bearing breakthrough opportunities while raising serious concerns for equity, inclusion and democratic participation. Education is key to charting the course towards more justice and sustainability, but it is failing millions of children, youth and adults, increasing their exposure to poverty, violence and exploitation. The COVID-19 pandemic has exacerbated a pre-existing education crisis. Reliance on digital technology for learning has deepened exclusion and gender inequalities. Without remedial action, better support to teachers and increased financing, learning losses and school dropout will continue to rise, reversing progress towards all the Sustainable Development Goals and depriving youth of a future of dignity and opportunity.
Objectives of the Day
Putting a new social contract in education in motion
Generate debate on the essential triggers of transformations to build more equitable and inclusive education systems that will accelerate progress towards SDG 4, taking on board findings of UNESCO's Futures of Education Report.
Showcase transformations in action with potential for scaling to advance digital inclusion, green competences and skills, and gender equality
Mobilize political will to address gaping inequalities in access and completion of education, in line with SDG4
Spotlight student voices on what changes and innovations they want to see to make their education more fit for purpose
Spotlight teachers' voices on the future of their profession, from integrating technology in their practice to orienting teaching and learning around new skills and mindsets for people and planet
Source : UN