Four approaches are adopted for E-learning
EDUSAT Broadcast on Television
Video on demand through YouTube Channels
Live Classes on Zoom WebEx Google Meet
WhatsApp Group of Teachers, Students
Approaches adopted for E-Learning
Online Classes on Zoom, WebEx, Microsoft Team etc.
(Many teachers of department are taking online classes daily on the above mentioned platforms)
WhatsApp group
All the schools have created WhatsApp Groups of Students and content in form of audio, video and text is being sent to students. Students also send their homework back to teachers too.
Video on Demand by YouTube
Utkarsh Society has initiated a Video on demand channel also. Students can watch videos of their choice there too.
Linkage of EDUSAT with Television (DTH, Cable TV and JIO TV)
Action Plan Adopted
Collaboration with 11 Local Cable Operators
Four EDUSAT Channels have been dedicated to School Education for content telecast
Daily Broadcasting timetable for 5 1/2 hours. The Telecast is repeated twice
Telecast on JIO TV for any time access of learning content
Subject expert committee prepares the broadcasting schedule as per scheme of study.
Self-contained instructions to field functionaries have been issued along with FAQs
Coverage of 90% students through TV
Other modes of teaching have also been adopted
Learning material has been arranged from various resources
Shanka Samadhan Program has been started to address the queries and doubts of the students.
Target Group
Schools in Haryana
| | | | |
| --- | --- | --- | --- |
| Category | Govt. | Private | Total |
| Primary | 8635 | 1244 | 9879 |
| Middle | 2371 | 3404 | 5775 |
| High | 1131 | 2049 | 3180 |
| Sr.Secondary | 2152 | 2983 | 5135 |
| Grand Total | 14289 | 9680 | 23969* |
School Children in Haryana
| | | | |
| --- | --- | --- | --- |
| Classes | Govt. | Private | Total |
| Total 1-5 | 891,903 | 1,432,637 | 2,324,540 |
| Total 6-8 | 549,313 | 822,350 | 1,371,663 |
| Total 9-10 | 374,435 | 5,11,513 | 885,948 |
| Total 11-12 | 244,821 | 314,81 | 559,632 |
| Gand Total | 2,060,472 | 3,081,311 | 5,141,783 |
To support student learning during the Covid lockdown, multiple initiatives have been launched in Haryana, the two major ones being (1) TV Learning Through EDUSAT, and (2) घर से पढा Campaign via WhatsApp and SMS.
Learning Through EDUSAT
EDUSAT is a satellite content streaming service owned by the Government of Haryana for sharing Educational content with TVs in schools across the State which has been operational for the last 10 years. During lockdown, EDUSAT is now being streamed through all Cable and DTH TV networks across Haryana direct to student homes.
e-Learning platform has been created for 51 lac students of classes -1-12 studying in all the schools across the State
Three dedicated TV channels have been launched to show EDUSAT content with different channels showing content for elementary and secondary grades
Content is streamed throughout the day, with time slots for each grade publicly promoted through a timetable
Video content is a combination of in house State EDUSAT content (made by SCERT and State teachers) and videos from academic partners like Pratham, or Tic Tac Learn from CSF.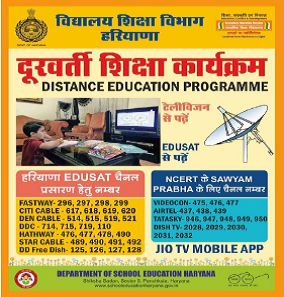 Ghar Se Padhao WhatsApp Campaign
The घरसेपढ़ाओ Campaign has been launched through the network of 200+ centralised teacher WhatsApp groups already created as part of the Saksham Haryana programme. This campaign connects students and teachers directly through WhatsApp to ensure active learning by students.
Central Messages are shared daily with teachers through teacher WhatsApp groups
Academic videos & worksheets for core subjects - Hindi, Maths, Science, and EVS as per SCERT's month wise distribution of syllabus
Simple academic exercises for Classes 1-8 to be shared via SMS to students without smartphone
Teachers create WhatsApp groups with their class to share daily activities and homework
Teachers review students' work through follow up phone calls and messages
Teachers call parents each week to check on progress
Students maintain a dedicated notebook to record their activities at home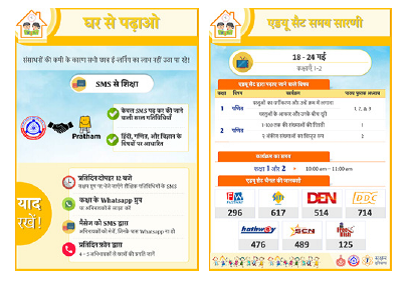 Participation in home learning by both teachers and students is being driven through State, District and Block level Campaigns
Teachers, Students and Officers efforts are being recognised through certificates and in the press
Weekly short online quizzes are held for Classes 5th – 12th on topics shared via WhatsApp in that week.

Quizzes for Classes 5th – 8th focus on core subjects: Maths, Hindi, Science and EVS
Quizzes for Classes 9th– 12th focus on Maths and Science
District and block level reviews are being held regularly and ePTMs are being conducted
Around 60% of teachers in the State have created WhatsApp groups with their students, connecting to over 10 lakh (50%) students in the State, with 4.5 lakh students completing homework every day. In the Secondary quiz (Classes 9th – 12th) conducted on 30th May, over 25% of enrolled students in those classes completed the Quiz.
E-Mega PTM
Each class teacher assigned to call all the students of his or her class and talk to parents also.
Each School Head assigned to call at least 3-5 parents from each class of his or her school
ABRC/ BRP/ DIET Faculties monitor at least 15 parents and 5 teachers/school Heads of the clusters they assigned.
BEOs Called at least 10 school Heads, 10 teachers and at least 10 parents
District Level officers were assigned to adopt one block each and call the concerned BEO, 5 school heads, 5 teachers and 10 parents. All Stakeholders updated report on Google Link that was provided for the purpose
Effective Communication and Grievance Redressal
School level Committees
Block level Committees
District level Committee
Directorate level Committee
Chief Minister/CM window
All these platforms have been created to address the grievances of Students, Parents and community
Quiz Competition
COVID Quiz Competitions organize for students
Question Banks prepared by the teachers and experts
Online registration was done
Various reforms regarding syllabus and Examination
Result of Classes I to VIII have been declared keeping in mind the mental well being of the students.
All the students in these classes have been promoted to next grade without examination.
Similarly, the result for classes IX and XI has been declared for ensuring continuity in learning.
Textbook
To facilitate self -learning and make learning relatable the Department has provided all the textbooks to the Students under the RTE Act.
All textbooks have been provided to students from classes I to VIII at their doorsteps.
E-Admission Process
To make the process of Admission easier various steps have been taken by the Department.
Smooth transition has been assured for classes 5th and 8th.
Paperless admissions
No fees are being charged in classes I to VIII.
The necessary requirement of School Leaving Certificate has been abolished
Steps to Check the Drop outs arising out of COVID-19 circumstances
Due to the Coronavirus pandemic the migrant labourers are leaving the state and are moving to their native place.
The teachers are in constant touch with parents and are counselling them to ensure their admission in their native places.
The documents required will be provided to the parents.
On return hassle free admission will be provided in the schools of the State.
Super 10
Online coaching to the students of Super 100 Who have been selected on the basis of merit for providing free coaching for admission in reputed Engineering and Medical institutions.
Tablets are also being provided to them for uninterrupted learning
The coaching to all the students of SUPER 100 is being provided by Vikalpa and Allen Institutes.
Dedicated Channels on EDUSAT are also providing coaching for competitive Examinations.
Monitoring of Teaching Learning process
Responsibilities have been fixed for all the stakeholders.
Each stakeholder calls at least 20 parents daily and seeks feedback regarding learning of students.
All the feedback is being collected through google form.
Data collected is analyzed on a daily basis at Head Quarter and sent to district officers to fill the gaps which are found.
Digital Learning Links
Teaching and Learning@home through DIKSHA Haryana Portal and App
e-books: ebooks for classes 1-5, 6-8 and 9-12 can be accessed from the following links :
e-material on Mathematics can be viewed on following links:
Recorded Lectures on different topics can be viewed on youtube channel at UTKARSH Society
After visiting above url click on "Playlist" menu to see recorded lessens of your choice
Course of Action for further facilitation the students
Two dedicated hours for Haryana on Swayam Prabha Channel of NCERT- starting w.e.f. 17.4.2020
Access to Sampark Foundation, CCT, E-Pathshala, NORER apps, Jio TV etc
Providing Virtual Classroom Facility to 500 Schools to deliver online lectures on CISCO's WebEx platform
Extension of lectures on TV through National Channels in collaboration of Ministry of Information and Broadcasting, GOI
Partnership with Various Organizations for E-Learning Resources
The Central Square Foundation
Sampark Foundation Noida
Rotary International
Aprajita Foundation
Humana People to People India
Manav Rachna University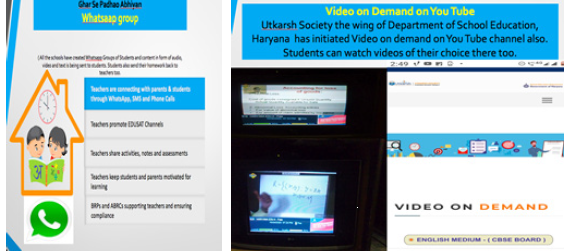 Source : India Report Digital Education