Virtual Classes
During the prevailing conditions of Covid-19 pandemic, in order to maintain the continuity of education delivery to students, following steps are being taken:-
Tele Classes on DD Kashir and Local Cable Network
Video Lectures Repository using JK Knowledge Network (existing knowledge dissemination portal under Samagra Shiksha)
Online Classes including Vocational Classes using freely available Applications like Zoom etc.
Promoting use of National Educational Portals like e-Paathshala and DIKSHA through various means.
Using various digital platforms for reaching out to students.
Created Special WhatsApp Groups for interacting with Children with Special needs through Special Educators.
Free Laptops & Braille Tactile Readers for Visually Impaired: Under one of the major initiatives, 42 Laptops are being distributed to Resource Rooms established for Children with Special Needs in all the districts of J&K. These Laptops shall be connected with Braille Tactile Reader machines thereby enabling Visually Impaired students/persons to freely access the internet.
JK Career Portal: First of its kind online Career Guidance Portal "Manzelein" was launched for students of J&K in association with UNICEF. It's a structured and well programmed portal developed to help students in choosing a right career after completing their secondary or higher secondary education. It will have complete information on 550+ careers, 21000+ colleges and 262,000 programs in 16 countries. In addition, it will have information on 1150+ entrance exams and 1120+ scholarships." Besides, it can also guide the children on available skill-based courses and NSQF compliant curriculums being offered across the country. The portal can be accessed at "https://jkcareerportal.org" wherein students can log on to the portal with their enrolment IDs issued by JKBOSE
Distribution of Free Tabs: 2500 Tabs were distributed to schools during Covid period. Schools can use these Tabs for online classes, accessing online content available on e-Paathshala/DIKSHA and other activities during the Lockdown and even beyond. 780 more tabs are also being procured.
Capacity building Virtual Online Workshop for DIET: Capacity building of DIET Faculty conducted through Webinars on Audio Video Editing, Content development, Pedagogy & Andragogy in collaboration with Kavilaya Education.
Social Media: Enormous promotion is being made regarding ongoing Webinars, Educational Sessions, Tele Classes etc by National/International organizations like NCERT, NIOS, Google Education, UNICEF India, IGNOU etc
Online Talent Hunt Competition: An online Talent hunt programme for children of 5-17 years of age is being organized under Samagra Shiksha in association with Viraj Kala Kendra, Jammu. The Cultural Bonanza under the brand name "Skills & Thrills" is being conducted for Dance, Singing and Poster Making competition.
Jammu and Kashmir Knowledge Network (JKKN)
The Jammu and Kashmir Knowledge Network (JKKN), is an initiative of Samagra Shiksha J&K to connect school children of J&K to the world of knowledge through the internet. At present More than 1 lakh students have been connected with the internet and there is application for 2-way interactive lectures from across the state.
This program is for class 9 to class 12 and covers Hindi, English, Maths, Science, Social Science, Computers and Urdu subjects.
This program is accessible via Website, Mobile App, WhatsApp, Radio, TV and one can also reach JKKN.
E-Contents for the students are regularly updated on the portal by teaching faculty of respective Districts. The students can search the contents topic wise/subject wise on the portal regularly. 6000 Videos have been uploaded on the portal during the lockdown period. Students join online sessions through the JKKN and the same recorded lectures/sessions are uploaded on the Content section of the JKKN portal so that students can view the lectures later on.
Samadhan AI-Based Educational Chatbot
Samadhan is AI based Educational chatbot embedded as a link in JKKN platform used to interact with the students regarding their run-time queries. This tool is used as an auto response interface between the student and the teacher. The chatbot helps students and teachers to get quick responses related to educational queries and it will be continuously updated with feedback from teachers and students.
This program is for class 9 to class 12 and covers Hindi, English, Maths, Science, Social Science, Computers and Urdu subjects.
This program is accessible via Website, Mobile App, WhatsApp, Radio, TV and one can also reach JKKN.
This program contains several content such as Explanation Videos, Practice Questions, Assessments, eTextbook PDFs, Lesson Plans, Slides and Recorded Classrooms on the Internet.
Radio Classes & Tele Classes
Radio Classes are being organized in association with Mirchi 98.3 wherein classes were conducted through experts for 5 days a week. Besides, local TV channels were also telecasted.
This program is for class 9 to class 12 and covers Botany, Zoology, Chemistry, Maths and English subjects.
The sessions were open for all students and the radio sessions especially could be understood by Visually Impaired as well.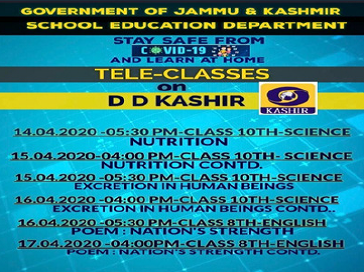 Initiatives for Teachers
Online Platforms: To make DIET Faculties aware about various resource sharing platforms so that they can easily share content and cascade the information to teachers as well as resource persons.
Kinemaster: To build capacity of DIET Faculties on Audio/Video Editing; later on, they in turn will build capacity of resource persons and teachers of their districts through cascade model.
Bodh App: To provide an online platform to DIET Faculties, resource persons, teachers for online courses.
The above three initiatives cover DIET Faculties, DRGs, ZRP/CRPs and In-service Teachers.
VFS (Virtual Field Support): Students could listen to stories, while staying at home. Data for various government schemes is collected through VFS. This is intended for Children, Teachers and Officials.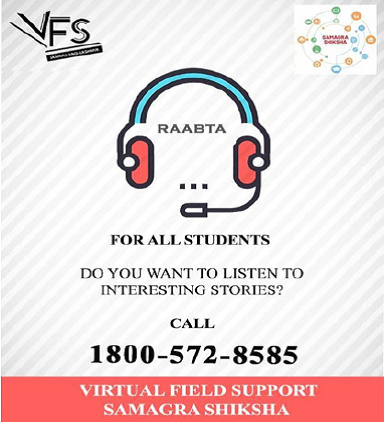 ICT Infrastructure
Elementary education (Class 1-8): There are 1609 Smart Schools, and all 1609 schools have digital labs.
Secondary education (Class 9-10): There are 974 Smart Schools and all 974 schools have digital labs.
Higher secondary (Class 11-12): There are 614 Smart Schools and all 614 schools have digital labs
Source : India Report Digital Education
© 2006–2019 C–DAC.All content appearing on the vikaspedia portal is through collaborative effort of vikaspedia and its partners.We encourage you to use and share the content in a respectful and fair manner. Please leave all source links intact and adhere to applicable copyright and intellectual property guidelines and laws.