IITM Pravartak
"Out of the box thinking through mathematics" is an initiative of IITM Pravartak Technologies Foundation hosted by the Indian Institute of Technology Madras (IIT Madras) to nurture young minds.
About Mathematics
Mathematics is not just mechanical calculations of numeracy or mere plugging of borrowed formulas existing for ages. It is a study of facts of numeracy and logic, where logic is interwoven in the study of mathematics. It provides an opportunity to explore self-assessment, data processing, validation, to develop broader thinking by dealing with a variety of problems which lead to multiple solutions. The joy of discovery in this process, helps realize the powerful applications of mathematics in various fields from Anthropology, Archaeology, Astronomy, Biology and so on.
About The Course
Logic being the undercurrent in the study of mathematics, it is essential to develop a broader thinking, through its applications in the expanding world of technology. From solving a fun sudoku puzzle to completing an important scheduled project, the logic of working is much more important than the arithmetic involved in it. This requires creative thinking and a broader perception that is often known as Out of the box thinking. Out of the box thinking is solving problems through an indirect and creative approach, using reasoning that is not immediately obvious, and involving ideas that may not be obtainable by using only traditional step-by-step logic. In this unique course, such thinking is emphasized through rediscovering the known and unknown facts of mathematics logically, with an interesting broader perception of the manner of doing it.
For Whom
These courses are easily accessible from your school children to professionals and researchers. The four graded independent levels of the courses present multiple approaches to problem solving, debunking the myth that problem solving is for the elite. It introduces new techniques in a easy to understand fashion; prepare the users to face real life projects with confidence and ease.
Pre-requisite
Familiarity with basic concepts and ready mind set for learning non-routine problem-solving skills.
Levels
Topics in Level 1 - Out Of The Box Thinking
Puzzles Math
Calendar Math
Odd and Even
Tuning Technique
Number Trip Game
Doing and Undoing
Visual Maths
Who am I?
Divisibility Blocks
Missing Digits
Follow the Sequence!
Mask Math
Cow Grass Theory
Eligibility
School class 5 and above
Outcomes
Concentration
Topic-specific knowledge
Problem solving skills
Memory
Enhancement of self-esteem
Topics in Level 2 - Out Of The Box Thinking
Passenger and Compartment
Soccer Score Table
Frog Jumping Theory
Basic Counting
Story Math
Tabulation with Proper Header
Cows and Bulls
Dissection of Polygons
Sports Algebra
Post Box Algebra
Basic Geometry
Ruled Note-Book and Percentage
Area and Perimeter
Eligibility
School class 7 and above
Outcome
Logical skill development
Courses
| | |
| --- | --- |
| School Class | Lecture Duration |
| 5 and above | 20 hours |
| 7 and above | 20 hours |
| 9 and above | 30 hours |
| 11 and above | 30 hours |
Course Brief
3 months courses
10 weeks for each level
20 hours of recorded video sessions
2 hours per week
Process
Apart from recorded lecture sessions, each level provides periodic assignments, evaluation, assessment and answers.
Registration
Course is free online.
Course registration will be open in the months of April / November every year for the June and January sessions, respectively.
Registered students should take up assignments online.
Final Exam
Final exam carries a nominal fee.
Final Exam is a proctored one conducted at centres in select cities across India.
Grade Certificate
Grade Certificate, based on evaluation of final exam, will be issued by IITM Pravartak.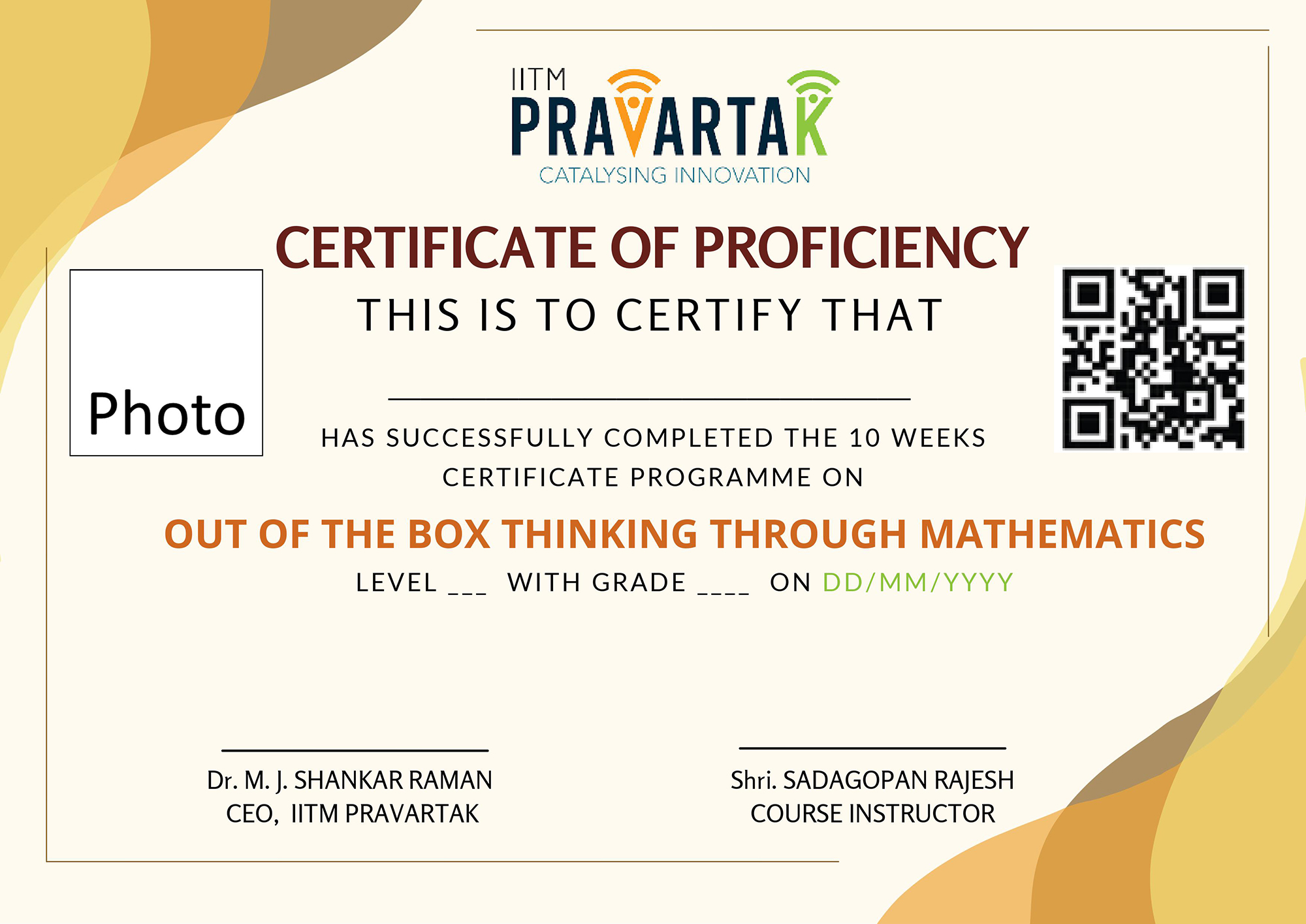 Grade A - 85% and above
Grade B - 70% to less than 85%
Grade C - 55% to less than 70%
Grade D - 40% to less than 55%
Source: www.pravartak.org.in