Solar street lighting system uses the photovoltaic technology to convert the sunlight into DC electricity through solar cells. The generated electricity can either be used directly during the day or may be stored in the batteries for use during night hours.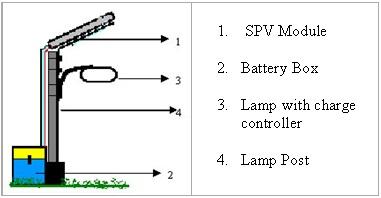 Parts of a solar street lighting system
The solar street lighting system comprises of
Solar photovoltaic module
Battery box
Lamp with charge controller
Lamp post
In general, the specifications of the parts are
74 Watt Solar PV Module
12 V, 75 Ah Tubular battery with battery box
Charge Controller cum inverter (20-35 kHz)
11 Watt CFL Lamp with fixtures
4 metre mild steel lamp post above ground level with weather proof paint and mounting hardware.
Solar street lighting system is ideal for street lighting in remote villages. The system is provided with battery storage backup sufficient to operate the light for 10-11 hours daily. The system is provided with automatic ON/OFF time switch for dusk to dawn operation and overcharge / deep discharge prevention cut-off with LED indicators.
The SPV modules are reported to have a service life of 15-20 years. Tubular Batteries provided with the solar street lighting system require lower maintenance; have longer life and give better performance.
Approximate cost
The approximate cost for the most common specification is around Rs 24,000. It varies based on models.
Advantages
No requirement of electricity
Easy to install
Simple to operate and low maintenance cost
Eco friendly
Source : www.geda.org.in