The National Adaptation Fund for Climate Change (NAFCC) is a Central Sector Scheme which was set up in the year 2015-16. The overall aim of NAFCC is to support concrete adaptation activities which mitigate the adverse effects of climate change. The activities under this scheme are implemented in a project mode. The projects related to adaptation in sectors such as agriculture, animal husbandry, water, forestry, tourism etc. are eligible for funding under NAFCC. National Bank for Agriculture and Rural Development (NABARD) is the National Implementing Entity (NIE).
Objectives
Funding concrete adaptation projects/programmes aligned with the relevant Missions under National Action Plan on Climate Change (NAPCC) and the State Action on Climate Change (SAPCCs) in agriculture, horticulture, agro-forestry, environment, allied activities, water, forestry, urban, coastal and low-lying system, disaster management, human health, marine system, tourism, habitat sector and other rural livelihood sectors to address climate change related issues.
Preparing and updating climate scenario, assessing vulnerability and climate impact assessment
Capacity building of various stakeholders on climate change adaptation and project cycle management and developing knowledge network
Mainstreaming the approaches/ learnings from project/programme implementation through knowledge Management
NAFCC Outcome Framework
Fund level outcome parameters will consist of the following :
Reduced key risks and adverse impacts of climate change in water and agriculture sectors
Maximised multi-sectoral, cross-sectoral benefits/co-benefits to meet the challenges of water and food security
Human development, poverty alleviation, livelihood security an enhanced awareness of community
Strengthened institutional & individual capacity to reduce risks associated with climate-induced socioeconomic and environmental losses
Strengthened awareness and owners hip of adaptation and climate risk reduction processes at local level vi. Increased adaptive capacity within relevant development and natural resource sectors
Increased ecosystem resilience in response to climate change and variability-induced s tress
Diversified and strengthened livelihoods and sources of income for vulnerable people in targeted areas
Improved policies and regulations that promote and enforce resilience measure
Implementation
The States/UTs are required to prepare the project proposal in consultation with NIE i.e. NABARD. The project proposals are required to be approved by the State Steering Committee on Climate Change to be eligible for consideration under NAFCC. It is the discretion of the State Government to engage any organization to assist in project preparation, as per their requirement.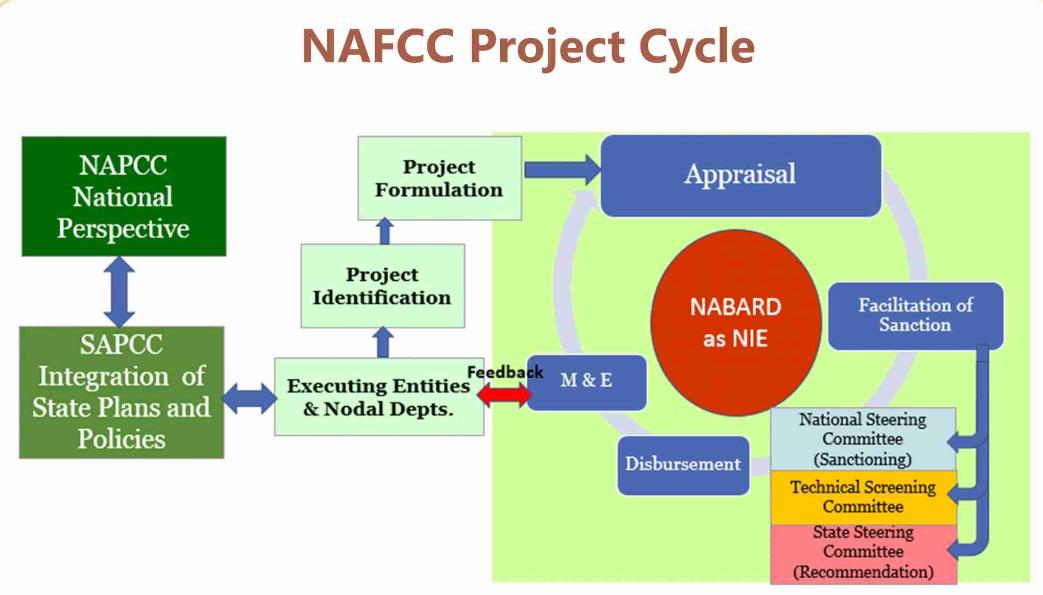 To access the Implementation Guidelines for NAFCC, click here.
To access the list of Projects sanctioned under National Adaptation Fund for Climate Change, click here.
Source : NABARD