The National Ayurveda Day is celebrated every year on the occasion of Dhanwantari Jayanti (Dhanteras) since 2016.
Ayurveda is perceived as one of the most ancient and well documented system of medicine equally relevant in modern times. Its holistic approach whether for healthy individuals or for diseased ones remains unparalleled. Prevention of disease and promotion of health is the main aim of Ayurveda. Lord Dhanvantari is considered as divine propagator of Ayurveda. He is conferred with the virtues of granting health and wealth. Therefore, Dhanvantari Jayanti was preferred for celebration of Ayurveda Day to nationalize this system of medicine which can prove to be a cornerstone for its ultimate globalization.
Objectives of Ayurveda Day
An attempt to further promote Ayurveda into mainstream
Focus on strengths of Ayurveda and its unique treatment principles.
Reduce the burden of disease and related morbidity and mortality by utilizing the potential of Ayurveda.
Exploring the potential of Ayurveda to contribute towards National health policy & National Health programmes.
Create a sense of awareness in today's generation and promote Ayurvedic principles of healing in society.
National Ayurveda Day logo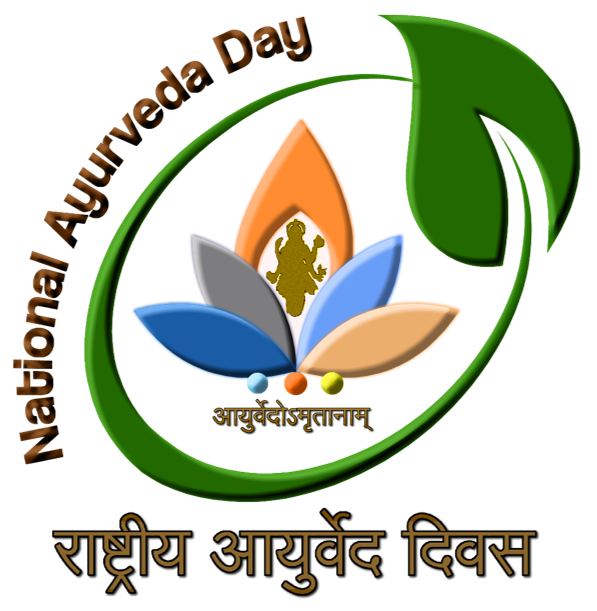 The logo for the National Ayurveda Day has the following elements.
The silhouette of lord Dhanwantari in the centre of the logo represents the lord of Medicine.
The five petals in logo symbolize Pancha Mahabhuta and three circles beneath signify Vata, Ptta, Kapha, the fundamental principles of Ayurveda.
An oval leaf encircling the elements depicts the essence of healing through Nature based on these fundamental principles.
National Ayurveda Day 2022
In 2022, Ayurveda Day is being observed on 23 October 2022. The Ayurveda Day celebrations are being held under the Azadi Ka Amrit Mahotsav initiative. The theme this year is 'Har Din Har Ghar Ayurveda''.
Ayurveda, the original healthcare tradition of humanity, is not just a medical system, but a manifestation of our symbiotic relationship with nature. It is a well-documented systems of healthcare, wherein prevention of disease and promotion of health are both given due consideration.
All India Institute of Ayurveda (AIIA), under the Ministry of Ayush, is the nodal agency for driving the Ministry of Ayush's mandate for Ayurveda Day this year.
The celebrations would be in collaboration with all the Ministries and departments of Government of India so that every person of the nation is made aware of traditional system of medicine with the aim of 3Js – Jan Sandesh, Jan Bhagidari, and Jan Aandolan.
A six-week long programme (12th September-23rd October) has been launched to focussedly interact with and sensitise the people so that the message of Ayurveda can percolate down to all levels.
Source : Ministry of AYUSH