Why should Hearing Loss be Identified Early?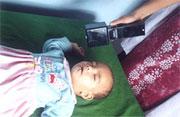 As mentioned earlier hearing impairment not only affects the child's speech and language development but also impedes the child's social, educational and personality development.
If hearing impairment is identified early, these adverse effects due to hearing impairment in the child can be minimised.
Treatment/Rehabilitation Options
Drugs and surgery are useful in treating middle and outer ear problems. For ear discharge, regular and long term treatment is necessary to stop it completely. In case where the hearing impairment is irreversible, hearing aid fitting is recommended.
The rehabilitation process includes training to make the best use of residual hearing, speech reading instruction, speech–language stimulation and therapy and the services of special educators. At the appropriate age preschool/school placements should be made after consulting a special educator.
Early identification and intervention & family support are important factors which determine the success of a rehabilitation program. Therefore whenever a hearing problem is suspected immediate action is imperative.
Management of identified children with hearing impairment
On Suspicion of hearing problem by family or referral by doctor for hearing assessment, seek professional help.
Provide case history for audiological assessment.
Do 'Other assessment' such as Speech and Language, psychological assessment along with audiological assessment.
Hearing loss can be diagnosed as: Conductive hearing loss, Sensorineural/Mixed hearing loss or Normal hearing sensitivity.
For both Conductive and Mixed hearing loss, one can first refer to ENT specialist for advise or treatment and follow up audiological assessment after treatment.
For Mixed hearing loss (also known as Sensorineural hearing loss) apart from referring to ENT specialist one can directly do a hearing aid trail & fitting; get counseling about use; and also learn to take care and maintenance of hearing aid.
After hearing aid trial, one can go for auditory training, Speech and language stimulation & therapy and/or get help of special educators.
After this one can go three ways: 1) redo Audiological assessment, 2) redo hearing aid trial 3) or as advised by educator join pre-school or school placement.
Depending upon the advise by educator, one can redo Audiological assessment or hearing aid trial or get pre-vocational and vocational training, which will finally result into job placement.
When diagnosed for Normal hearing sensitivity, follow-up evaluation after 6 months.
Source: Ali Yavar Jung National Institute for the Hearing Handicapped