Oral cancer is one of the ten most common cancers in the world. In India, oral cancer, including cancers of the lip, tongue, gum and floor of mouth, is one the most common cancers, and may be the commonest in many regions. Oral cancer is both preventable and curable. There is usually a long natural history and most cases of oral cancer arise from pre-cancerous lesions. Therefore there is ample opportunity for intervention before actual malignancy develops. Also oral cancer responds well to surgery and radiation if detected early.
Parts of oral cavity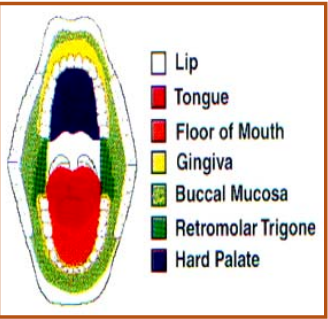 Risk factors
Tobacco chewing is the single most important risk factor for oral cancer.
Other risk factors include alcohol use, betel nut chewing, and chronic trauma to oral mucosa by sharp tooth or ill-fitting dentures.
Chronic exposure to these risk factors causes changes in the oral mucosa and these changes are visible as pre-cancerous lesions. Over time, malignancy may develop in these lesions.
Pre-cancerous lesions
Pre-cancerous lesions or conditions are local or generalized disturbances that predispose to malignancy in a particular site. Leucoplakia, erythroplakia, palatal changes associated with reverse smoking or beedi smoking and submucous fibrosis are local pre-cancerous lesions. Plummer Vinson syndrome, syphilis, and erosive lichen planus are generalised pre-cancerous conditions.
All these conditions are amenable to early diagnosis, and treatment is possible in many cases.
Leucoplakia
This is defined as a white patch that cannot be characterized as any other disease clinically or pathologically. They can be of 4 types:
Homogeneous leucoplakia: Low risk of cancer
Ulcerated or erosive leucoplakia: High risk of cancer
Speckled or nodular leucoplakia: High risk of cancer
Verrucous leucoplakia: Very high risk of cancer
Two or more types of leucoplakia may be present in the oral cavity at the same time. Confirmatory diagnosis is by biopsy.
Treatment of leucoplakia:
Treatment is planned on the basis of individual cases. In all cases, patients must be advised to quit the tobacco habit. Routine follow-up observation allows early detection of any cancerous change in the lesions.
Erythroplakia
This is a bright, velvety area sometimes surrounded by faint plaques which cannot be characterized as any other lesion clinically or pathologically (Figure 9). About 90% of these lesions show cellular dysplasia or malignancy. The risk of malignancy in erythroplakia is higher than in leucoplakia. Hence all cases of erythroplakia need to be biopsied. Treatment of erythroplakia is similar to treatment of leucoplakia.
Palatal changes due to beedies and reverse smoking
There is palatal keratosis, excrescences around the openings of minor salivary glands, white patches, red areas, ulceration and melanin pigmentation. All such lesions should be subjected to biopsy and treatment is to be instituted accordingly. Cessation of the tobacco habit is an essential part of treatment.
Traumatic Ulcers / Keratosis
Sharp cusps, remaining root stumps, mal-aligned teeth and unscientifically fabricated dentures can cause traumatic ulcers or keratosis on the lateral margins of the tongue or buccal mucosa. Any such ulcer in the mouth that does not heal within one month of antibiotic/ antiseptic treatment should be viewed with suspicion. The irritant like sharp tooth, ill-fitting dentures etc. should be removed immediately and the lesion reassessed after two weeks. Any lesion that persists should be biopsied and managed accordingly.
Oral Submucous Fibrosis (SMF)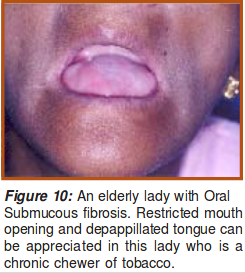 This is characterized by blanching of the oral mucosa, difficulty in tolerating spicy foods and slowly progressive inability to open the mouth and protrude the tongue Figure 10. In some cases there may be involvement of soft palate resulting in nasal voice.
SMF may be localized or generalized. Diagnosis is by visualisation or palpation of fibrous bands, loss of elasticity of buccal mucosa and atrophy of tongue. In generalized SMF, the entire oral mucosa is atrophic. Once detected, the patient should be advised to stop the tobacco habit, and should be regularly followed up.
Oral Cancer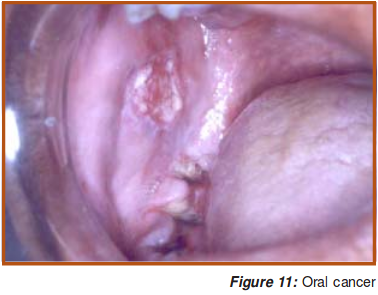 The most common cancer seen in the oral cavity is squamous cell carcinoma. It presents as a painless ulcer, mass or fissure. As the disease advances, patient may have excessive salivation, trismus, and difficulty in chewing, swallowing or speaking, depending on the involvement. There may also be cervical lymphadenopathy. Distant metastases are uncommon in oral cancers.
Early detection
Self Examination of oral cavity
This is important for dectecting oral lesions at an early stage.
When to do Self examination

All habitual tobacco users should do it once a month.
How to do it
Rinse the mouth with water and stand before a mirror in adequate light.
Look in the mirror for any abnormal white or red patch, ulcer or roughened area, granular area or swelling in the mouth.
If any such area is seen, the suspicious area should be felt with the fingers. Normal oral mucosal is soft and pink.
Consult a doctor if any abnormal area is found.
Examination by a health professional
Utilize every opportunity to examine the oral cavities of tobacco users. All parts of the oral cavity should be examined; oral cavity includes lip, anterior 2/3 of tongue, floor of mouth, buccal mucosa, gingival mucosa, hard palate and retromolar trigone.
Diagnosis and staging of oral cancer
A thorough clinical Examination
Biopsy: Punch or incisional
X-Rays of mandible and paranasal sinuses
CT scan and MRI
Management of Oral Cancer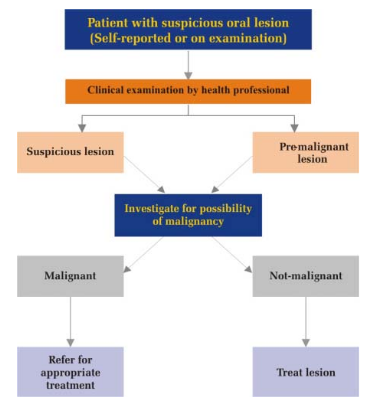 Management may be through surgery, radiotherapy, chemotherapy, or a combination of modalities.
Source : Manual for Health Professionals by Directorate General of Health Services Ministry of Health and Family Welfare Government of India