Odisha 360-Degree Communication Approach To Deliver Rmnch+A Outcomes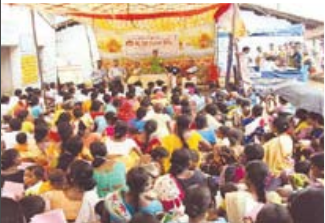 Problem Statement
Most of the health programme are not implemented as envisaged due to poor IEC/BCC strategies. A rebust IEC strategy is imperative for success of health programme implementation and achievement of expected outcomes.
Programme Description
Multiple, distinct, yet complementary channels of communication is used in this approach in the State to compliment the results of RMNCH+A outcomes. The overall strategic thrust of the approach has identified evidence based key priority behaviours with a judicious mix of media and messages. The overall strategy has led its foundation on three pillars i.e. institutional strengthening to deliver and augment the plan, capacity building across all delivery outlets including frontline workers and community and integrated communication interventions intercepting with key messages and channels.
The key elements of the approach are:
Evidenced based communication strategy.
Capacity building & institutional strengthening.
Synergy & convergence between different media & activities.
Integrated communication calendar and activities.
Strengthening Interpersonal Communication & community process.
A Centre of Excellence in Communication is established at State Institute of Health and Family Welfare, in partnership with DFID, UNICEF and BBC:
State of art human resource, infrastructure.
Integrated health communication.
Modelling as a Communication Institute.
Media and Communication management.
Material Development and Programme management Unit.
Documentation and Research Cell.
Web based IEC material and training warehouses.
Programme Outcomes
CoE has driven evidence based planning by conducting two KAP studies i.e. information need assessment among tribal districts and community need assessment on MCH behaviours and evaluation of Swasthya Kantha BCC approach is ongoing
Developed and implemented a 52 week multimedia communication plan and activity calendar on identified 12 key priority behaviours.
In last one year, designed, developed and implemented a behavior change and information publicity campaign on Malaria, Dengue and Diarrhoea, emergency BCC campaign during cyclone (phailin) and flood, entitlement drive on RBSK, NUHM and ambulance service.
Trained all 344 communication service providers at block and district level.
Initiated support in organizing Communication Workshop on RMNCH+A.
Successfully launched and support implementation of Mobile Kunji and Shakti Varta (PLA) work in all high priority districts.
Programme Output
All 43,000 villages of Odisha have a functional health wall maintained and updated by ASHA and AWW.
348 communication service providers of district and block are sensitized and trained on Swasthya Kantha implementation.
More than 40,000 ASHA and GKS are sensitized on Swasthya Kantha messages, maintenance and implementation.
Out of 6,844 ASHAs, a total of 5,249 (77%) ASHAs have already received training while out of 1,857 HWs a total of 574 HWs have been trained in using Mobile Kunji.
110,000 minutes of contents have been used by ASHAs and ASHA Sathis in Mobile Kunji.
Above 95% FLWs are using BSNL CUG SIMs.
Out of 21093 villages PLA meetings completed in 5650 villages of 3 high burden districts of Odisha.
Around 32800 self help group members have participated in these village meetings on HNWASH issue.
Each meeting has an average of 33 participants including mothers, pregnant, adolescents and elderly women.
1218 Shakti Varta facilitators as SHG members have been trained in 2 phases of PLA meetings.
Web based MIS and Resource center established to track evidences.
Last Modified : 2/20/2020
© C–DAC.All content appearing on the vikaspedia portal is through collaborative effort of vikaspedia and its partners.We encourage you to use and share the content in a respectful and fair manner. Please leave all source links intact and adhere to applicable copyright and intellectual property guidelines and laws.