BIOWAT - Biomedical Waste Water Treatment  is an improvised Liquid Waste Management facility developed at Nartiang PHC, West Jaintia Hills District, Meghalaya for the treatment and disposal of Biomedical Waste Water.
Problem statement
Primary Health Centre, Nartiang, West Jaintia Hills (Meghalaya) generates approximately 560 litres of liquid waste daily. The waste water comprises of disinfecting fluid, housekeeping fluid, laundry waste water, laboratory fluid, etc. Routine practices of unsafe discharge of the liquid waste into a nearby stream raised the environmental concern and the practice is against the provisions of the BMW Rules 2016.
Nartiang PHC is surrounded on three sides by natural streams which sustain a thriving aquatic ecosystem of local fishes. Local people use the streams for household needs, not to mention about the source of easy protein that the locals get from the fishes which thrive in the surrounding streams.
Hence a system to neutralize the impending damage to mother nature,  a simple & cost effective adaptation of current technology was tapped for the treatment and safe disposal of biomedical waste water.
The innovation
BIOWAT has been developed as a low cost primary care intervention for the treatment and safe disposal of liquid waste generated at the PHC. Under the Initiative, the liquid waste, after a simple primary treatment (Sedimentation & Filtration) undergoes following four stages of treatment:
Intermittent/Demand operated Slow sand filtration
Chlorine Disinfection
Carbon Adsorption
De-chlorination with Vitamin-C (ascorbic acid)
Free residual chlorine is neutralized based upon a reaction by M.W.Tikkanen et al., in 2001.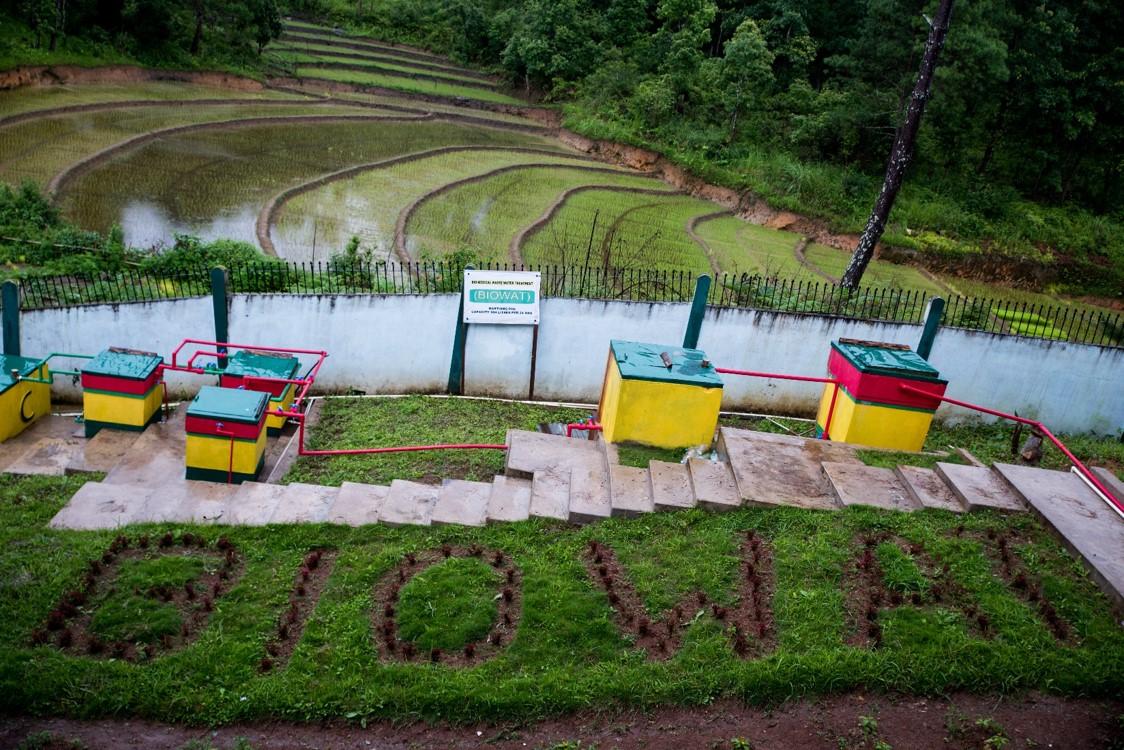 The treated effluent has the following discharge parameters
Free Chlorine : 0 mg/L
pH : 7-7.5
Fish survival : 100%  >96 hrs
Turbidity : < 5 NTU
The BIOWAT is technically simple to operate and utilises existing manpower to run. No complicated laboratory tests are involved. The intervention does not require energy source.
Cost of the unit
Conservative estimate for the initial cost incurred towards the construction materials come to Rs.1,50,000/-
Labor cost is approximately Rs.50,000/-
So total approximate expenditure is Rs.2,00,000/-
The daily running cost is Rs 20 only.
Annual (cost of Granular Activated Carbon (GAC) : Rs.10,000
All the expenses are being born by the Health Engineering Wing of the Directorate of Health Services, Govt. of Meghalaya. Some materials are donated by local stakeholder and friends alike. RKS members contribute to the landscaping.
Benefits and scalability
Simple operation and maintenance
Efficient removal of chlorine
Zero energy consumption for daily operation
Low cost – start up and running
Scalability : It can easily be replicated across PHCs & CHCs
Source : Proceedings of the Fourth National Summit on Good, Replicable Practices & Innovations in Public Health Care Systems in India, Indore Madhya Pradesh