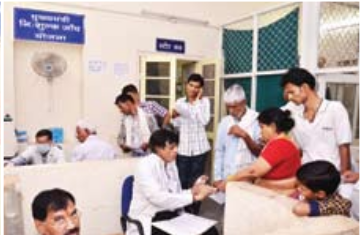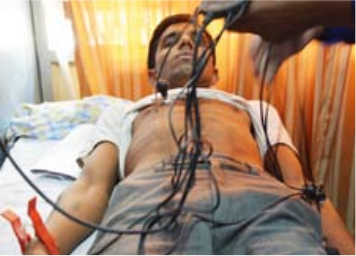 Problem Statement
Healthcare is a basic requirement of all human beings, but ironically large sections of human population are still deprived of this most primary requirement. This is preventable, and with available resources it is possible to provide essential healthcare facilities to every human being. This requires:
A strong, efficient, well-run health system.
A system for financing health services.
Access to essential medicines and technologies.
A sufficient member of well-trained, motivated health workers.
While conceptualizing the MNTY it was considered that if diagnostic services were made available at all hospitals without fee charge then it would be a step further (subsequent to implementation of MNDY) towards the "Right to Medical Treatment" under the banner of "Universal Health Coverage" for the people of Rajasthan.
Programme Description
MNTY was launched in April, 2013 in a phased manner. The scheme has been implemented uniformly across all districts of the State and the benefits extend to the entire population of 7 Crore.
Vision
To provide quality essential diagnostic services in all the government health care institutions and contribute to fundamental right to health.
Mission
To strengthen the existing laboratories and other diagnostic facilities in all the public health institutions so as to provide the essential diagnostic services free of cost to all patients visiting government hospitals.
To meet gaps and to provide quality diagnostic services adequately equipped diagnostic facilities are proposed as package at various levels of health care.
Implementation
For ensuring success of the intervention and for addressing the gaps, the activities were categorized as short term and long term activities with defined time lines, responsibilities and source of funds. Thereafter the scheme was implemented after issuance of all necessary government orders/circulars for strengthening of four basic components viz-infrastructure, manpower, equipments and reagents and consumables.
Daily Online Reporting of Investigations in e-Aushadhi is done & Non-reporting institutions are informed on daily basis through Sms message.
Role of Bio-medical Engineers in MNJY-The success of the scheme is also attributed to establishment of Equipment Maintenance and Repair Workshops (EMRWs) at zonal levels manned by one Bio-medical Engineer each to address the requirements of repair and maintenance of equipments in the zone.
Programme Outcomes
Over the period an increasing trend has been seen in utilization of the services. In the year 2013, number of the test conduct was 2, 30,00,862. It became 3,27,65,514 In 2014 and 8040,434 in 2015 (Jan to April).
IMPLEMENTING PARTNERS
Rajasthan Medical Services Corporation in co-ordination with Department of Medical & Health, Department of Medical Education.
Financial Investment
The project is supported through NRHM as well as State budget. In the year 2013-14 total State budget was 107.09 Crores while NRHM budget was 20 Crores. For the year 2014-15, it became 119.37 Crores from State and 20Crores from NRHM. For theyear 2015-16 State budget is 117 18 Crores.
SCALABILITY
It has the scope for scaling up to other States with a provision of 100-200 Crore funding depending on the list of investigations to be made free.
Conclusions/Lessons Learnt
Though the period of implementation for MNTY-Free Diagnostics Scheme has been that of two years only i.e 7th/April, 2013–15, it has definitely aided in enhancing access to healthcare and moving the State towards Universal Health. Some of the conclusions/lessons learnt can be enumerated as, such a scheme may first be piloted at some identified institutions, regular supply of reagents and consumables & timely release of funds need to be insured. Strengthening of monitoring by Bio-medical Engineers is required.