About eSanjeevani OPD service
National Teleconsultation Service of Ministry of Health and Family Welfare is first of its kind online OPD service offered by a country government to its citizens. National Teleconsultation Service aims to provide healthcare services to patients in their homes. Safe & structured video based clinical consultations between a doctor in a hospital and a patient in the confines of his home are being enabled.
eSanjeevani - a doctor to patient telemedicine system has been deployed nationally for the Miinistry of Health & Family Welfare under Ayushman Bharat Scheme of Government of India.
The scheme is particularly useful during times of pandemic Coivd-19 as it helps people avoid going out to consult a doctor or visit a hospital. Through eSanjeevani OPD, anyone can seek medical advice and medication through audio and video. With the introduction of this service, people living in the remotest areas will also be able to get their health related consultation.
Timings for availability of the service
To access the state-wise timings during which the service is available, click here.
What is needed to use eSanjeevani OPD
To access the website - https://esanjeevaniopd.in/Home
Users must have a laptop or a personal computer with a web camera connected with Internet (1Mbps)
eSanjeevaniOPD to be used in Chrome browser.
If you are using MS Windows operating system, please ensure you have Windows 8.0 or later in your laptop/PC.
A working mobile phone to send/receive OTPs by SMS
Mobile app
Besides being a webapp eSanjeevaniOPD is also available as an Android mobile application. It can be downloaded from Google Play https://play.google.com/store/apps/details?id=in.hied.esanjeevaniopd
Process to book an appointment
This is a simple process to follow.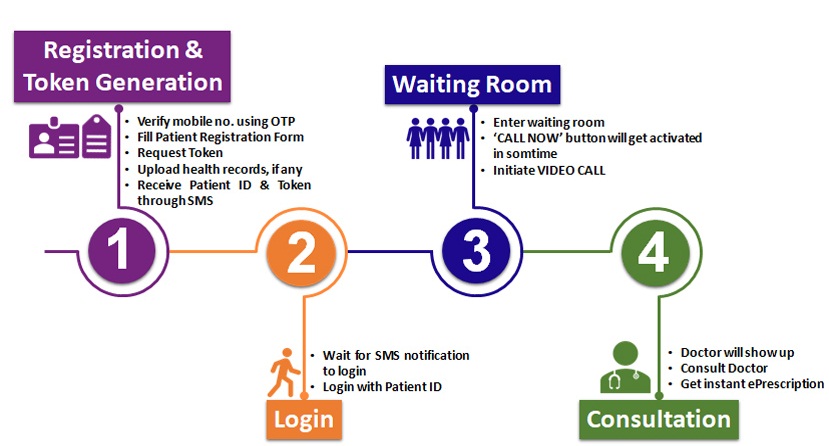 Just log-in straight to the https://esanjeevaniopd.in/Home, get token number, wait for your turn, speak with the doctor on video, show your previous records and take a prescription valid for medication.
Video Source: Seenagers club
Source : esanjeevaniopd portal