About Health and Wellness Centres
The Ayushman Bharat - Health and Wellness Centres (AB-HWCs) were launched under the Ayushman Bharat Programme in a bid to move away from selective health care to a more comprehensive range of services spanning preventive, promotive, curative, rehabilitative and palliative care for all ages. The National Health Policy of 2017 envisioned these centres as the foundation of India's health system.
Expanded range of services
These centres deliver a range of comprehensive health care services like maternal and child health, services to address communicable and non-communicable diseases and services for elderly and palliative care. AB-HWCs provide free essential medicines and diagnostic services, teleconsultation, and health promotion including wellness activities like Yoga.
The expansion of services has been planned in incremental manner. As a first step, Screening, Prevention, Control and Management of Non-communicable Diseases and Chronic Communicable diseases like Tuberculosis and Leprosy has been introduced at HWCs.
Care in pregnancy and childbirth.
Neonatal and infant health care services
Childhood and adolescent health care services.
Family planning, Contraceptive services and Other Reproductive Health Care services
Management of Communicable diseases: National Health Programs
Management of Common Communicable Diseases and General Out-patient care for acute simple illnesses and minor ailments
Screening, Prevention, Control and Management of Non-Communicable diseases and chronic communicable disease like TB and Leprosy
Basic Oral health care
Care for Common Ophthalmic and ENT problems
Elderly and Palliative health care services
Emergency Medical Services
Screening and Basic management of Mental health ailment
Key Components
The delivery of CPHC through HWCs involve is complex task as it requires a paradigm shift at all levels of health systems. The operationalization of HWCs requires several inputs.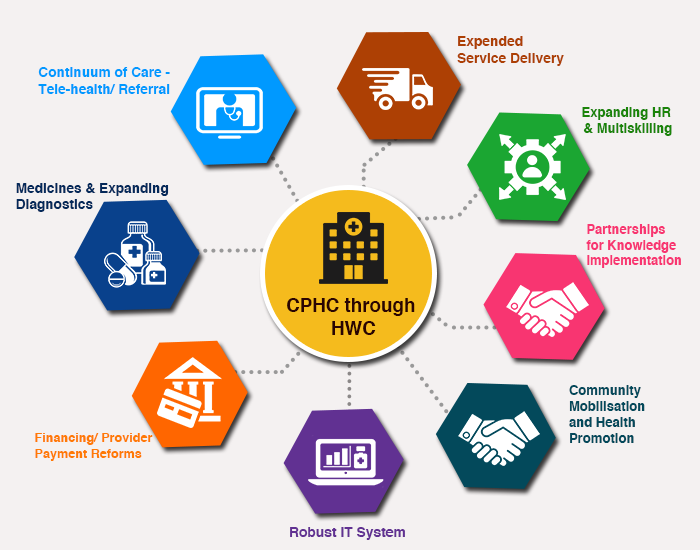 Target
1,50,000 Sub Health Centres(SHC), Primary Health Centres (PHC) and Urban Primary Health Centres (UPHC) to be transformed as Health Wellness Centres by 2022.
To know the status of rollout, click here.
Related resources
Source : Ayushman Bharat - Health and Wellness Centre portal