Hygiene measures at the receiving location of kitchen goods
All items are received by Hospital store / kitchen.
The Department store verifies the quality and quantity of goods received as per the purchase requisition request.
Supplies such as fresh vegetables/fruits except banana, potato and onions, are preferably washed at the receiving area.
Hygiene measures at the storage location of food items
The objective is to maintain good quality food at temperature and conditions to ensure retention of quality and safe condition.
Dairy products, fruits, dry items (pulses, wheat etc.) are stored separately.
The food products in store should be ventilated and temperature controlled, where appropriate (temperature not below 50oF or above 80oF).
Storage of Dry goods:
Food must be stored on shelves 1 foot above floor level
Sacks are stored on pallets and never directly on the floor
Pallets should be removed weekly and cleaned
Any spillages must be cleaned immediately
Bread must be stored in a well ventilated and cool area.
Flours and cereals are stored in sacks in a damp free environment and inspected regularly for infestation.
Storage of Fresh Items
Fruits and vegetables are stored in a dry room.
Fruit and salad items should be stored in such a way to allow air to circulate.
Potatoes must be stored in crates in a dry room.
Milk, dairy products and cream must be kept separate from all raw products in refrigerator.
Store foods such as uncooked vegetables away from food which is already cooked
Refrigerators should be sited away from heat source and running temperature should to be checked & documented twice a day regularly.
Hygiene measures to be followed while preparing food
Fresh vegetables are washed prior to pre-processing.
All preparation surfaces must be kept clean.
Raw food is to be kept separately from cooked food
Salad items must be thoroughly washed in a salad wash
Food which is at a high risk to getting infected (eg. Sweets) should not be prepared much in advance.
Separate utensils are used for raw and cooked foods.
Ready food must be covered and kept under the right temperature before use.
Kitchen waste must be collected and disposed off properly.
General cleaning
Adequate and suitable cleaning equipment are available such as mops, mop buckets, disinfectants, detergents, brushes as required, scouring cloths, deck brushes and cleaning cloths.
Cleaning supplies are stored separate from food items.
Mop heads are changed at least once in two weeks or as per needs.
Chopping Boards are washed after each use and once washed should be allowed to dry in an area where the air circulates freely.
Cleaning of refrigerators - Weekly
The following procedure can be applied to work-in and reach-in refrigerators.
Switch off the unit and remove all food items, ensuring that these are covered in the appropriate manner and are kept safe during the cleaning process.
Remove all shelves and clean in lukewarm water with detergent solution mixed.
In case of upright refrigerator remove mobile food trolley.
Clean the fridge base and wipe the interior walls with the detergent solution mixed with water. Scrub all shelves rinse and dry (if required) otherwise wipe with dump cloth.
Remove all condensation from drip trays (if applicable) and wipe down all walls with a clean cloth.
Replace all shelves
Switch on the unit.
Personal hygiene in the kitchen
It must be emphasized that personal hygiene is important within the kitchen and is applicable to all staff of kitchen.
Employees are clean in person and wear clean uniforms. Employees perform following personal hygiene practices while at work.
Hand washing & general safety rules
Hand washing, before beginning of the work
Hand washing, after each toilet use
Hand washing, between handling cooked and uncooked food
Hair coverings are worn during cooking/pre-processing / food servicing/tray line operation.
Aprons are promptly changed as and when required basis.
Fingernails are maintained clean and trimmed.
Signs are posted conspicuously within all areas of food and beverage department directing personal to wash their hand appropriately
Pest control
The objective is to maintain a sanitary environment, preventing contamination/spread/transmission of disease by insects or rodents or any other crawling insects.
Routine spraying is done in such areas as baseboards, backs of large equipment,cabinets and lower level storage areas with insecticide, traps are put out for rodents.
Any evidence of pests found by the staff is reported immediately.
Medical check-up and health of food handlers
All personal working in the kitchen and handling food must undergo periodic health checks in the under-mentioned manner and a record kept of each individual: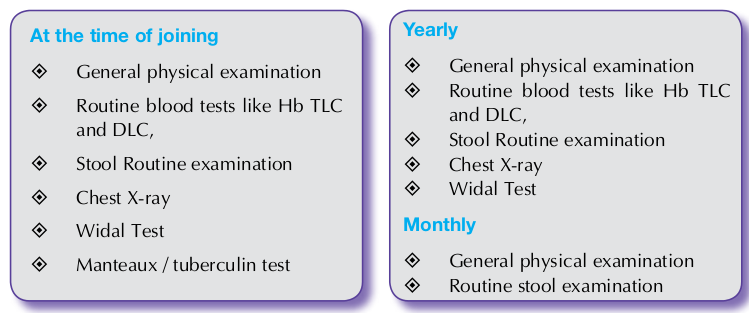 Method of disposal of kitchen waste
Disposal of kitchen waste is very important otherwise this becomes a prime source of fly, cockroach and rat breeding and their potential hazards. Kitchen waste is to be segregated into wet and dry wherein the dry waste essentially consists of glass and tin items. Wet items can be taken for composting.
Source: : Guidelines For Implementation Of "KAYAKALP" Initiative
Last Modified : 6/30/2021
© C–DAC.All content appearing on the vikaspedia portal is through collaborative effort of vikaspedia and its partners.We encourage you to use and share the content in a respectful and fair manner. Please leave all source links intact and adhere to applicable copyright and intellectual property guidelines and laws.