Sensitisation & Training on hygiene
All stakeholders must be sensitized on the importance of maintaining a high level of hygiene and cleanliness in their area of work. The healthcare workers should repeatedly be made aware that the health care facility is a destination of ill and sick persons (those who are unable to take care of themselves), in such a scenario clean & hygienic surrounding helps in healing other than protecting their own health.
Topics to covered in the training of stakeholders of public health facilities
Occupational hazards at the work place
Personal protection
" Method of cleaning in general areas of the hospital
Method of cleaning in special areas like the OT, Labour room, ICU, Laboratory etc
Management of body fluid, mercury spills, etc.
Handling of biomedical waste
Carriage and final disposal of waste
Disinfection and fumigation
Hospital Infection Control Policy
5S methodology
The community and visitors must also be sensitized and educated on the importance of keeping the health facility clean. The fact that this is a public facility and caters to the need of members of the very same community must be emphasized.
Sensitisation on Personal hygiene
The facility workers should be sensitised to maintain a high level of personal hygiene as suggested below.
General neatness and cleanliness
Personal cleanliness.
Body odours should be prevented by Daily bath.
Finger nails should be kept clean and short
Hand wash
Washing of hands with soap and water is very effective in reducing transmission of infection and must be done frequently.
Hair
Hair should always be neatly combed.
Women should use hairnets to prevent hair from falling out of place during work.
Cosmetics
Makeup should be avoided.
Usage of Jewellery, anklets, etc. should be avoided
Uniform
All staff should wear uniform as per hospital dress code.
General
Care should be taken to eliminate accident / hazards.
Safety regulations should be followed for protection from risk of injury/infection.
They should wear gloves and masks and other PPE.
Handwash technique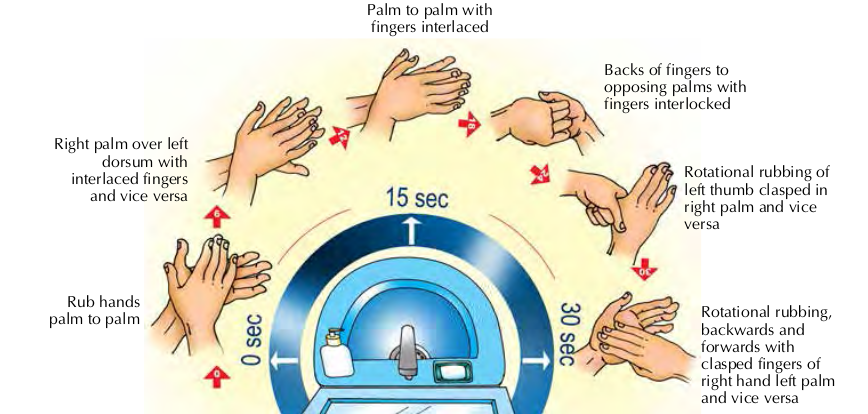 Sensitization on following behavioral change strategies would be required –
Usage of Alcohol based hand rub
Routine Hand Wash for 15 -20 Seconds
Preparing for Aseptic Procedures – 1 minute
Surgical Wash – 3 – 5 minutes
Source: Swachhta Abhiyaan Guidelines for Public Health Facilities
© 2006–2019 C–DAC.All content appearing on the vikaspedia portal is through collaborative effort of vikaspedia and its partners.We encourage you to use and share the content in a respectful and fair manner. Please leave all source links intact and adhere to applicable copyright and intellectual property guidelines and laws.