One of the key dimensions of Quality of Care is cleanliness of health facilities. One of the key indicators of patient's satisfaction relates to her/his perception of cleanliness in health care facilities. Maintenance of the hygiene and cleanliness of health facilities is not only related to aesthetics and patient satisfaction, but it also reduces the incidence of Hospital Acquired Infections (HAI). Keeping a hospital clean requires an active participation of all the personnel of hospitals along with the patients and their visitors.
Maintaining cleanliness in a health care facility differs from the conventional cleaning. Health facilities are required to maintain utmost cleanliness for minimizing the growth of infective organisms, which can spread between patients, visitors and hospital staff. Public health facilities are generally perceived to be unpleasant and unhygienic with poorly maintained buildings, over-flowing drains, grazing cattle within the campus, presence of dogs/cats/rodents inside the hospital and patient care areas & often dirty /non-functional toilets.
Key factors contributing to unhygienic conditions in health care facilities
Gaps in human resources intended to maintain cleanliness- relates to numbers as well attitudes and motivation level
Obsolete Equipment, consumables and erratic Supplies.
Inappropriate facility design.
Poor infrastructure, non-availability of 24*7 water & power supply.
Lack of community ownership of the facility for the upkeep & maintenance.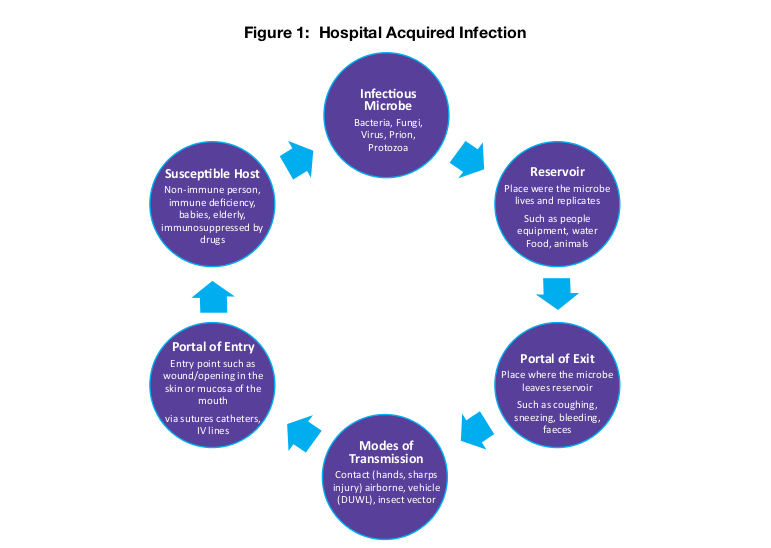 Note: Often, many of contagious/ communicable diseases spread by more than one route. The figure shows only a few of the many diseases that may be transmitted in a health facility.
The aim of Swachhta Abhiyaan guidelines for public health facilities is to enable the hospital management to address various aspects of facility cleanliness, sensitize staff and users regarding hospital cleanliness issues and enable cleanliness practices to be practiced by the health care providers for providing safe and effective care. It also serves as an implementation guidebook which contains guidelines and protocols for ensuring cleanliness as a key quality parameter. These guidelines also include tools for an objective assessment of health facilities and allowing for comparison of two or more facilities. Finally, it serves to support the health facilities in attaining the National Quality Standards.
As the Swacch Bharat movement gets rolling, public health facilities could lead the way in demonstrating themselves as pillars/ road maps of achieving cleanliness by the efforts of teamwork.
Stakeholders and their roles in improving cleanliness of health facilities
A health facility has many stakeholders - hospital staff, community, patients, health department & district administration. Their sensitization would be vital for improving the cleanliness of the health facilities. The fact that the facility is meant "for the people" must be appreciated by and supported "by the people".
Patients and other visitors visiting health facility can contribute by following hospital norms.
Do's
Use Public Convenience
Use Waste bins
Wash Hands before and after visiting facility
Follow hospital norms
Dont's
Don't Spit
Don't Litter
Don't Smoke
Health Care workers have a major role in implementation of these guidelines.
Follow Waste disposal techniques.
Keep hospital premises also clean.
Adhere to Infection prevention protocols.
Take Ownership & spread awareness about benefit of cleanliness.
The facility administration facilitates maintenance of cleanliness by providing right material, at right location in right quantity AND by supporting the spread of awareness to the community at large.
Source: Swachhta Abhiyaan Guidelines for Public Health Facilities